Trying to Identify a Squash
iam3killerbs
(7 NC Sandhills)
July 3, 2009
As explained in the thread linked below, 9-10 years ago when I lived in North Carolina's "High Country" -- Watauga and Jefferson Counties -- I was given an unusual squash. It was large, round, pink, and slightly flattened, though not so flat as the then newly popular "Cinderella" pumpkins. I was told that it was a "pie pumpkin" and told to save the seed.
The closest match to that squash that I could ever find in seed catalogs was the Long Island Cheese, which I am growing this year. And this year I was finally able to resurrect the seed of the "pie pumpkin" and get it to grow.
I have photos of the growing plants for comparison:
First, the Long Island Cheese: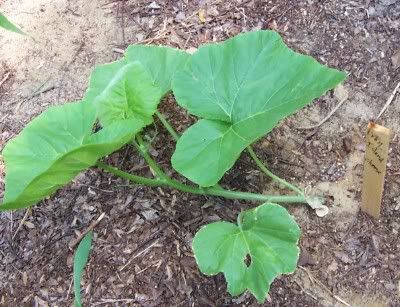 Next, my Watauga Pie Pumpkin (you can see that the two are definitely not a match):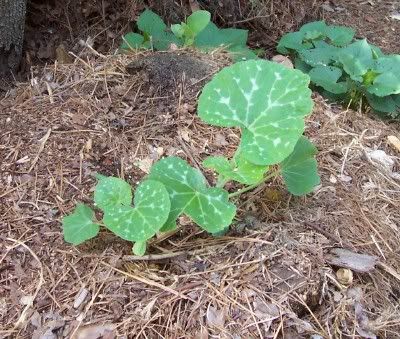 And, for comparison purposes between two mottled-leaf varieties, the Argonaut:
I've seen pictures of the Old-Fashioned Tennessee Vining Pumpkin fruits, but none of the vines. The fruit of that variety seem to be taller and paler than the squash I remember. Is anyone growing that and, if so, could you post a photo? I'd like to compare the plants of that variety with what I am, now that I'm sure its not a Long Island Cheese, calling the Watauga Pie Pumpkin.
Here is a link that might be useful: Thread About My Unknown Squash