Reclaiming a hill - need suggestions
Posted this in the Landscape Design forum first, before finding this forum..
I have a hill in my backyad that's pretty steep, about 30 ft from the back of the house. Unfortunately, it's quite overgrown with weeds. It has some good trees on it. Too steep for me to really do anything grass wise. What I'm thinking of doing is getting a few more trees in there, make it a somewhat more wooded area, help cut back on the weeds. Largest factor is going to be cost, which, I really don't have funds to spend (few dollars here and there, mainly what I find on clearance). However, I do have several bushes/shrubs to propagate from, mainly Crape Myrtles and Rose of Sharons, and a newly acquired Lynnwood Forsythia. Possibly even make it wooded with doing a shaded garden. I've already started on the left side with Hostas, and also have a line of Azalea's (3 that I planted last year you can see barel at bottom of hill). The hill fasts east, and the wood fence (neighbor) is on the south side. Not looking for anything great, just something that is lower on maintainance and not costly, help cut back on the weeds.
First picture, April 2012, Panoramic of back yard/hill. Doesn't look too bad here, before all the weeds got to grow (and I weedeated it before it got out of control).

This is how the right (northern) side of hill looks now, completely overgrown. You can just make out 2 azaleas out front, along some with gladiolus. Rest is weeds/wildflowers. A shrub/bush behind it, maybe some type of juniper (no clue!) with honeysuckle on top...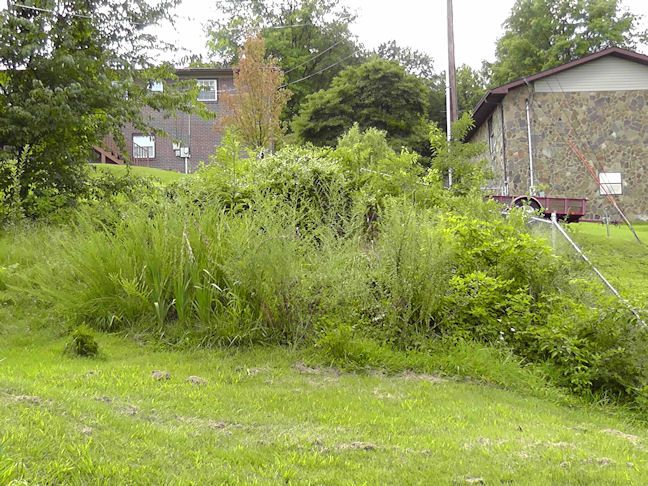 An open area, the middle of the hill. I'm trying to grow 2 Crape Myrtles in the middle (current 6-8" tall)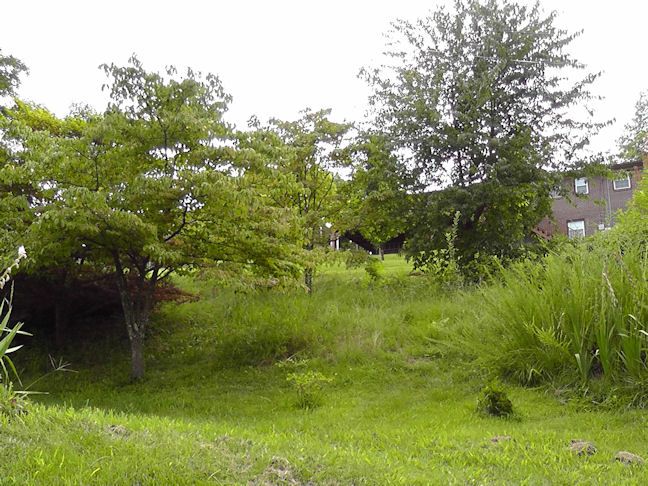 Crape Myrtle hiding in the grass/weeds

Side shot of same overgrown area (looking North/Northwest), but looking behind the bush.

Top of hill, looking down (north/northeast). This would be above the main shrub/bush there (the supposed Juniper). There's also a rose of sharon just off-center to left I transplated this spring that's on the left side of the panoramic shot.

Top of hill, looking down on the south side, looking east. I'm thinking of planting 2 rose of sharons, on either side of a Crape Myrtle I planted (cuttling from the Crape Myrtle in Panoramic shot, not same type as 2 planted in middle, which are more mid-size)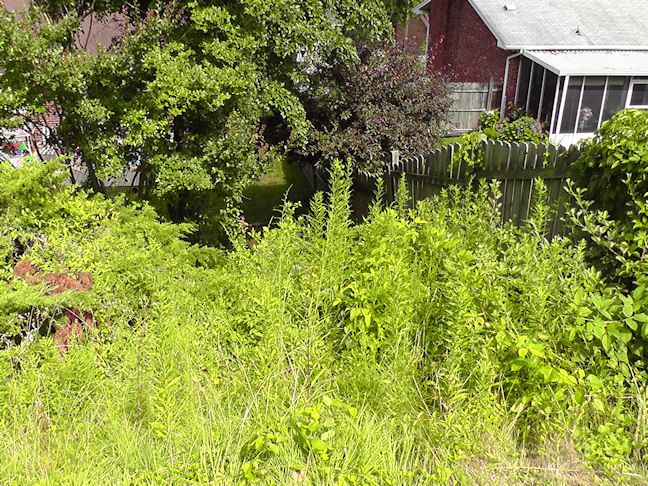 This is where I'm focusing right now.

I've weeded out about 1/2 of it.
Hard to tell, but there's a baby azalea in there I planted this spring. Back middle in this picture

I have good luck with Daffodils and tulips in this area, as there is no shade there in the spring. I also planted some daylilies there for the summer (forget the species, but it's a purple variety). I just planted them from tubulars from Sam's club, so I expect I won't get much blooms until next year. I had a couple, but that's it. Have a columbine, some Hostas, and some Ferns, all planted this year. The plum tree is probably going to come down.
Shot behind the area in progress

I have a baby cedar tree I planted mid-way up this spring, we'll see if it survives. However, I think I'll stil need something more, as it's above that Juniper bush (cannot really see it in pic, on right side), if I'm going to create a shaded area.
I'm not necessarily looking for a whole shade effect, however, that's going to be one of the easier ways to control the weeds I think, to some degree anyway. Unfortunately, time is an issue as well. Have 3 kids under the age of 5, and I work full-time, so I get maybe 1-2 hours each Saturday to do a little work, maybe Sunday too, and that's primarily spent weeding that one area, and the rest of my garden areas. This home was a foreclosure, so I have a dozen different areas that I'm trying to clean up. I've made a lot of progress on other fronts. I figure if I'm going to be doing trees back there, can go ahead and get that started, and work on the weeds/brush once the trees are taking hold....