What's wrong with my basil?
katwomn59
(8b-Austin, TX)
May 28, 2006
I have genovese basil planted potted in a mix of 1:1:1 commercial potting mix, compost and large perlite, with some bark chips thrown in for extra drainage. I have 2 problems:
New growth coming in with crinkled, upturned leaves: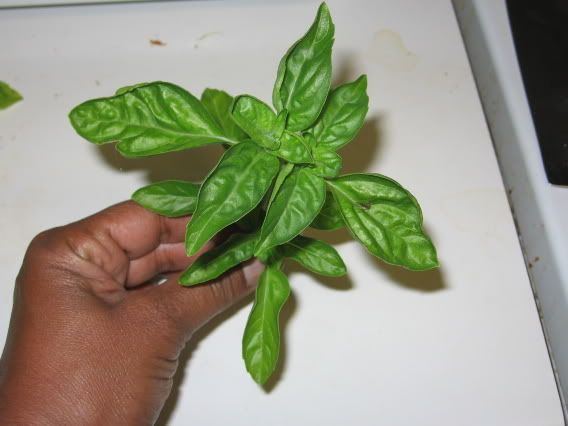 Also the older leaves are getting a bit pale: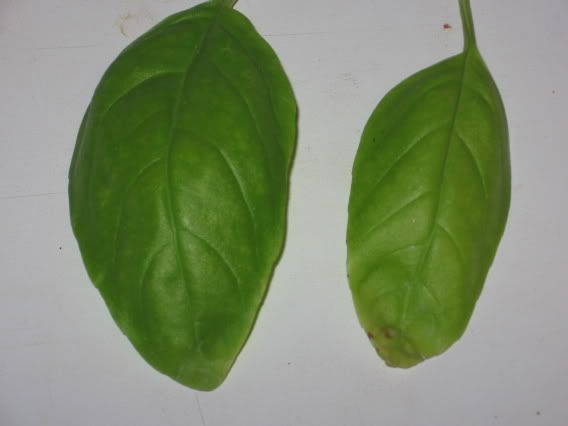 I cant figure out what is wrong. Too much water? Not enough? More fert? I know that uncomposted bark can deplete nitrogen, so I have been giving it some fert: 3-1.5-2 and 2-3-1. I also added some 5-5-5 slow release to the potting mix. Maybe not enough?
It also started flowering very shortly after planting. Could this have something to do with it? I am still pretty new to gardening (this is only my second season), but I grew basil last year and didnt have any problem. Overpotting maybe? Last year, I planted it in an 8" pot which it outgrew very quickly. So this year I potted it in a 10" pot with a wick so that I wouldnt have to repot.
Also, I used something called dynarok as mulch. It used mostly in hydroponics and absorbs water. I read that using it to top dress can help keep roots cool due to evaporation. Apparently it was keeping the surface pretty moist because not too long ago I noticed a lot of roots on the surface of the mix apparently trying to grow into the dynarok. So I removed it and added more potting mix to cover the roots. But the new growth is still comming in crinkled.
Any thoughts or advice?
Thanks,
Lydia