Please help =( Is this 'Lucy' standard permanently damaged?
mehearty
(So ME z5a)
August 22, 2006
Thank you in advance for your help. We have a lovely 8 ft "lucy" standard which lept beautifully on this, its 3rd year in our garden. It's beautiful to see her in bloom from inside the house as well as outside. She's got more buds than blossoms right bow so I know her best flush is yet to come. A couple of days ago we had some moderate-heavy rain and Lucy drooped. I figured it was no biggie, and that once she dried out a bit she would spring back. I even gently shook some of her branches to help get the rain out. Unfortunately she has not straightened back up and is an unsightly mess. =( Is there a way to help her recover or is a hard prune in her future? *sob* And an I to assume at this size, a decent rain will always be her enemy? All our other hibiscus were fine but they are not trained as standards.
Lucy a few weeks ago
=6>
Lucy today ... *sob* *boohoo*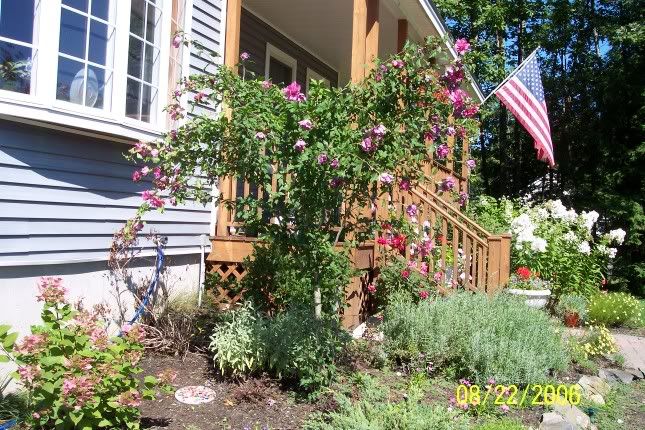 Thank you so much for your time.