Please tell what should I do...
ntt_hou
September 12, 2007
I'm in NW part of Houston, Texas. This past winter was unusually harsh for our area. We had many hard freeze days with long lasting hours.
I have 2 hibiscusses that are in pots and 4 on the ground. 1 in the pot came back after 1 month of warm weather in the spring and is now blooming. The other one in the pot had a few leaves coming out in spring; then, it stopped and looks bare. I'm leaving this one alone and see what happens in Spring.
This one shows below has been the biggest surprise. As soon as the cold weather ended, I cut the tree back to give it a boost and hope it comes back. But there has been no sign of life... well, up until now.
I truly thought it died completely and had already planned to replace another plant in its spot. I didn't get a chance to replace it before the weather got too hot. So, I was waiting until fall. Then, a week ago, this is what I saw... Life!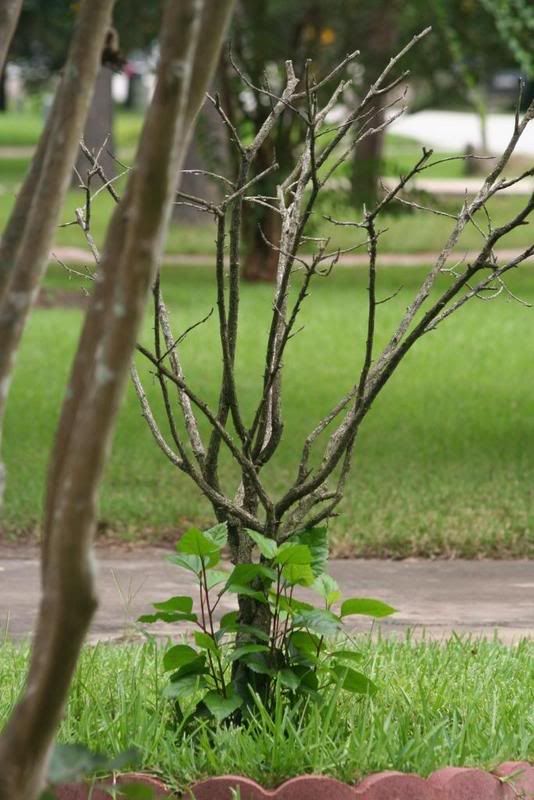 It's not shown well on this photo but those new branches are coming out from the lower portion of the trunks, not from the ground. Yes, trunkS... This is one that has 3 colors of blooms and are trained braided together.
What should I do next? Should I cut it down to where the new branches are coming up or should I just leave it alone? Would new branches at the top coming out in Spring?
I'm sorry, I don't know what kind of hibiscusses any of them are. I inherited from my mom when she moved away.
Any feedback is really appreciated. Thanks in advance.
Natalie