Summer in the Garden.....Good and Evil
abnorm
(Orlando)
July 27, 2012
Hi Ya'll...In the midst of rain and heat the garden still survives ...The Sweet Potato Patch still has a month or more to grow...I started about 5 different store-bought taters as well as Silvia's PuertoRico....In front of the garage are "CrepeMurderSticks"....I cut supports for my tomatos last spring and some rooted in the nutrient rich mix so they recently moved into the yard....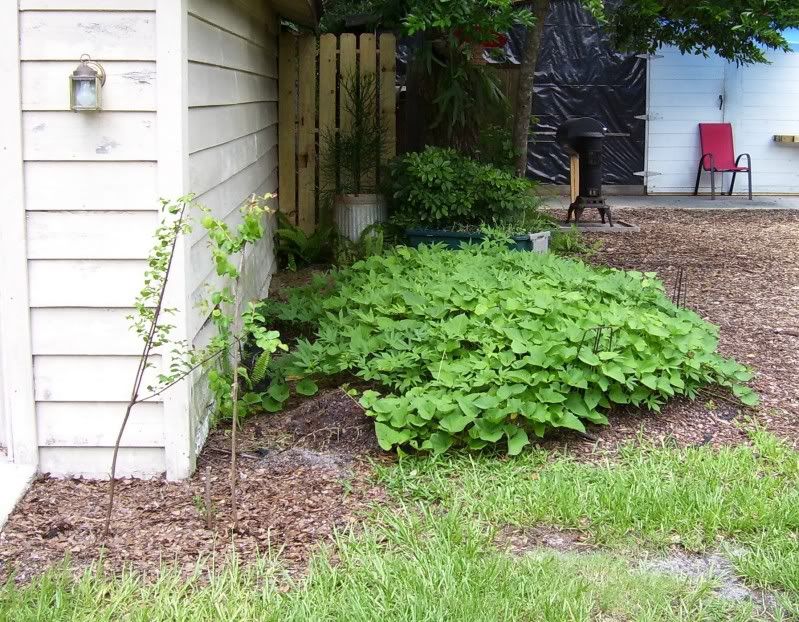 The Orlando eggplant is HUGE and producing....I have it in my largest container....about 30 gallons...and the Prosperosa eggplant has about 5 "globes"....soon-to-become 'Parmesan
The peppers are a mixed success story...the pepper plants grown in containers on a raised support were great.....but I grew about 15 additional buckets on the ground....Most of these buckets showed a real decline over time....
Well I finally turned out those buckets....replanting any survivors!....AH-HA....Tree roots!!!
This season I had drilled extra Bottom holes in the buckets...I usually use side holes but lately some of the buckets have developed a "stank"...The result were TREE ROOTS invading the peppers and the tomatos...Sometimes more than 25% of the container were full of brown tree roots.... This season I used a series of hydroponic fertilizers that included a Root Stimulator....Yeah it works !
After seeing MooLou's brick smoker.....I decided to get busy with MY barrel smoker....I'm starting with a cast-iron-coal-stove as my firebox....and a cheap barrel grill as my smoke chamber.....Here's a mockup: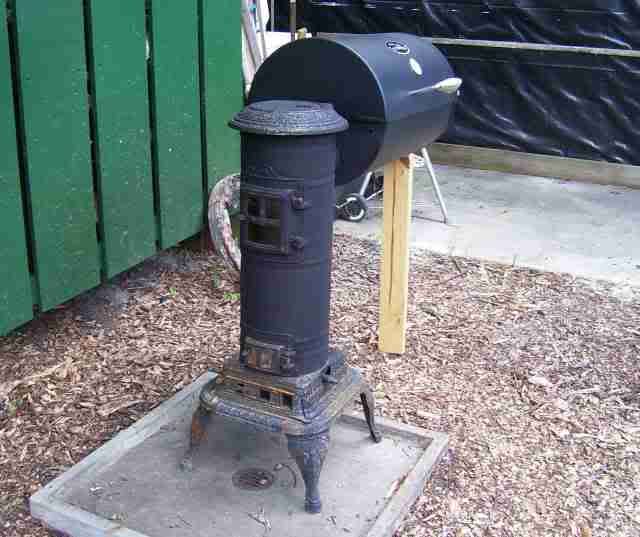 This week my behind-the-house-neighbor left a voice message on my phone....They would like to use my yard to stage a CRANE again...Two years ago they had a huge oak tree trimmed (at my request) by parking a huge crane in my backyard/driveway ....That spot is right in the middle of my garden NOW!......WWYD?
And as some of you know we've lost three of our four cats this past year all due to old age....Well we're proud to anounce the TWO recent additions to the family....Smudge and Blackie....Sister rescue cats that join our remaining old-man Ragdoll cat....PC
Yea!Wooohoo!!!.....Fish guts for everyone!!!!!
dougandpam