HAVE: Peonies and Lilies
Hi,
I have Oriental, Asiatic (named) and Trumpet (mixed) Lilies and several varieties of Peony for trade.
Asiatic Lilies:
'Fata Morgana' (double yellow)
'Elodie' (double pink)
Oriental Lilies:
'Dizzy' (white with maroon stripe on each petal)
'Yellow Dream' (white with yellow stripes)
'Expression' (huge fragrant pale pink flowers)
'Bahia Blanca' (huge fragrant white flowers)
'Stargazer'
'Mona Lisa' (dwarf pink)
'Muscadet' (frilly white with pink speckles)
'Kissproof' (red with white edge)
Peonies:
'Sarah Bernhardt' (double pink)
'Immaculee' (anemone cream)
'Karl Rosenfield' (double red)
'Gen. McMahon' (watermelon red, strong stems)
'Dr. Alex Fleming' (bright pink)
'Bowl of Beauty' (anemone shape, fuchsia pink petals create a bowl around the pale lemon-yellow center staminodes)
I have more varieties that I mentioned here. If you are looking for some particular variety, let me know. I might have it.
Trumpet Lily: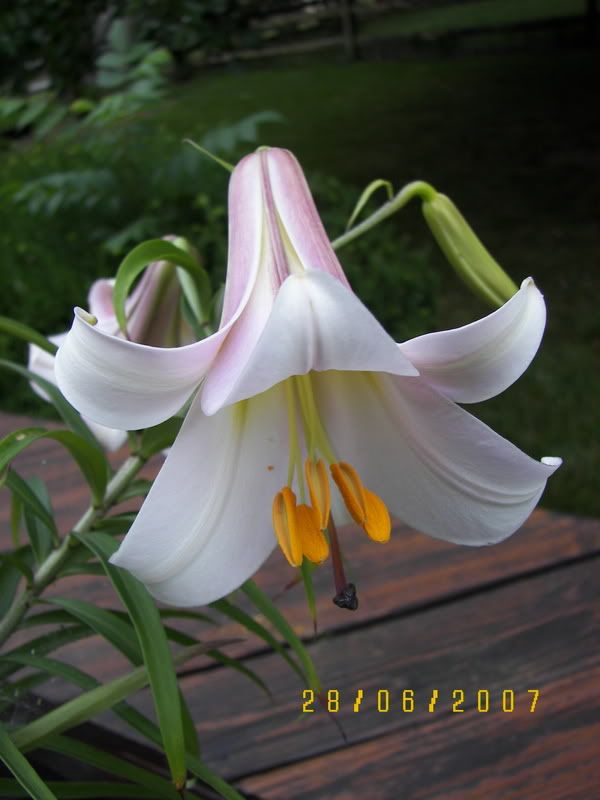 Asiatic DOUBLE Lily 'Fata Morgana'
Oriental Lily 'Bahia Blanca':
Hostas I am looking for:
Ann Kulpa
Blue Mouse Ears
Captain Kirk
Dancing in the RainÂ
Eternal FlameÂ
Fan Dance
Fireworks
Flame Stitch
Gypsy Rose
Hakumuo
Hanky Panky
High Society
Lakeside Cupcake
Lakeside Elfin FireÂ
Lakeside Spellbinder
Liberty
Loyalist
On StageÂ
Pandora's Box
Pewterware
plantaginea Venus
Rainbow's End
rectifolia 'Fujibotan'
Risky Business
Surprised by Joy
Teeny-weeny Bikini
Vulcan
White Christmas
Yin
Brunnera 'Jack Frost'
I can be tempted by other varieties as well. I would not be interested in common varieties that can be bought at big box stores. I mostly need small/dwarf and white Hostas and very distinctive Hostas.
I would prefer 1 or 2 big trade. Sorry, I can not offer anything for postage.
If you are interested, please email me at
raznoe.tam@gmail.com