HAVE: Lakeside KnickKnack
homer_zn5
(z5 IN)
June 10, 2006
Hey, everyone! I went out tonight to divide out the reversions on my Lakeside KnickKnack, and came back with a few divisions. This is from a very small 1-eye division that I received in a trade 3 years ago, and comes straight from the Lakeside Gardens (read, OS--one of the few of those I have). Regardless, the piece I received was so tiny that I nearly lost it, but this plant turned out to be quite the vigorous grower. I've let it get up to size since then, and this is the first time I have pinched or divided any of it. At one time, I was told that the entire plant had reverted, and that I need to just give up hope . . . but it turns out this plant had other plans.
I saved back the largest streaked division for myself (come on, you didn't really expect me to offer up the largest piece for trade, now did you?), but I did accidentally nick off a small 1-eye division that has very few roots (I'll be nursing it along this year, and we'll see how it looks next year), and a multiple-eyed division that appears to have 2 streaked eyes in the bunch.
So, I'm offering up the multiple eyes with 2 apparently streaky eyes here for trade. Here's a pic of the division, and a close-up of some of the streaked leaves:
Here's a pic of the piece I am keeping, and what I would expect that the division will throw again in the future: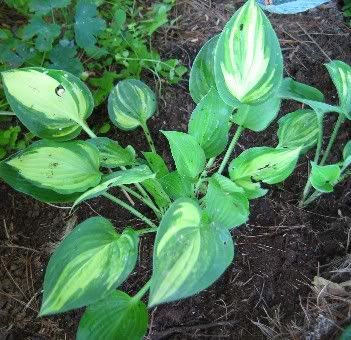 Two years ago, the piece I had did not even approach looking as good as the one I am offering up for trade, and it had far fewer streaks in any leaves. I won't pinch off the green, as I'll leave that up to the recipient to decide how they want this done.
I am open to all offers, but would appreciate only offers of similarly valued plants of similar size and quality.
The top plants I am looking for in this trade would be:
Galaxy
Warwick Comet
Glad Rags
Brother Stephan
Little Hobber
Cathedral Windows
Queen of the Seas
JourneyÂs End
and my preference would be pretty much in that order--although I will consider other trades.
I also have interest in some other unusual plants, such as Cephalotus follicularis, Cypripedium kentuckiense, reganii, parviflorum, etc (just not aculae . . . already have it), in the off chance that you may have some of those plants.
Yes, I know this is a rambling post for a mere trade, but this is my baby, and I've had several offers made in the past . . . all of which I have refused in order to make sure this plant was able to make it to a size where I felt comfortable dividing and trading.