Mystery Disease Harbouring over my poor mint.
I have acquired three mint plants over the past two months. Two of which are ailing of colored spots. I purchased a beautifully big and healthy spearmint from Wal-Mart ( may not have been the best place of purchase, I may know) Knowing mint is invasive, I planted it in a large plastic pot. Which I also planted in the ground In partial shade/to full sun. On the tops of the plant it has black spots that look of ink splatter. Now it's spreading on a few other leaves downward, and the location of spotting now with the leaves curling.
I am very concerned for the possibly nearing jeopardy of my mint factory. :)
But any who, two weeks before I bought a small healthy peppermint from Spring Hill Nursery, also planted in a large pot in the ground a few feet away from the spearmint. I just noticed in the past few days it has different spots, though only on two top leaves. And quite a few small bug eaten wholes. But not the kind of piercings from the Four-lined bug.
My third mint is also peppermint, it is very very young. I purchased it from a greenhouse in my town and have had it in the house ever since. It is doing well, but I plan on moving it outside with the same method.
How can I do this without further increasing the number of infected plants? As I plan to have a large number of mint for tea and cooking. Can anyone help me figure out what insect/disease could be plagueing my poor baby mints.
I have already read upon the four-lined bug, Mint Rust, and even one website saying it could be from over or under watering. I don't think that is the case, even though we get rain every other day here. I know mint likes water, so to test this theory I didn't water my plants for three days. The spots remained, along with them looking very healthy. Then it rained and no difference.
It seems like it is a mix of things to me. Please, Please, help me!!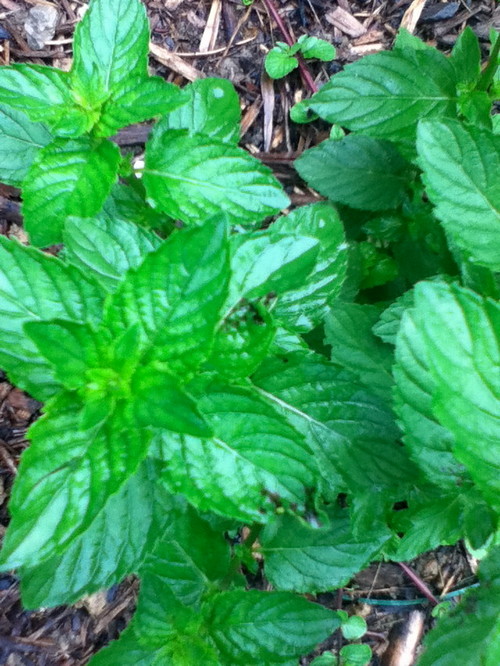 This post was edited by Mint.Tea on Sun, Jul 7, 13 at 19:12