WANTED: Hoyas with big, fat leaves
penfold2
(4b, MN)
April 28, 2012
I'm really interested in Hoyas with large leaves lately. I have a H. latifolia which I really like, but am looking for others like macrophylla, polystachya, rigida, etc. I'm also interested in the following:
Hoya archboldiana (red)
Hoya caudata
Hoya imbricata
Hoya macgillivrayi
Hoya maxima
Hoya meliflua ssp. fraterna
Hoya microphylla
Hoya serpens
Hoya subcalva
Any unusual Dischidia spp.
...And plenty of others I'm sure
I can offer cuttings of any of the following:
Dischidia bengalensis
Dischidia cleistantha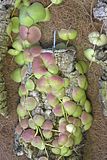 Dischidia hirsuta
Dischidia imbricata
Dischidia major
Dischidia ovata
Eriostemma affinis (IML 0061)
Eriostemma ciliata
Eriostemma cv. Gold Star (IML 0143)
Eriostemma obtusifolioides
Hoya cagayanensis (IML 1600)
Hoya DS-70
Hoya nummularoides
Hoya pimenteliana
I have other (non-Hoya) wants and haves on my exchange page.
-Chris