semi-hydro compared to gritty mix
greentoe357
February 7, 2014
EDIT Jan 28, 2015: this is an old thread, but I updated today with the results of that rooting / growing/ blooming experiment. Check it out below. The text or the original post follows.
-------------------------------------------
As somebody who has been growing hoyas in "gritty mix" (pine bark, turface or calcined DE and granite grit; pictured), what am I missing, if anything, by not going semi-hydro for at least some of my hoyas and maybe other plants?
I've read/seen very positive reviews of semi-hydro method, but with gritty mix, I am kind of largely there already - very good aeration, instant drainage, but with some water retention in the mix. There is no pool of water to wick up from though - roots just get the water+nutrients from retained water like in traditional pots, but you know, minus the suffocation.
So, I am interested particularly in stories/opinions of those who tried both s-h and gritty mix.
It can get pretty dry here in the winter - I may not be able to water enough in semi-hydro. How often do you water indoors with central heating on?
I posted a more general s-h questions here (http://forums2.gardenweb.com/forums/load/houseplt/msg0203092013139.html), but I want to get hoya crowd's opinions in particular. Thanks.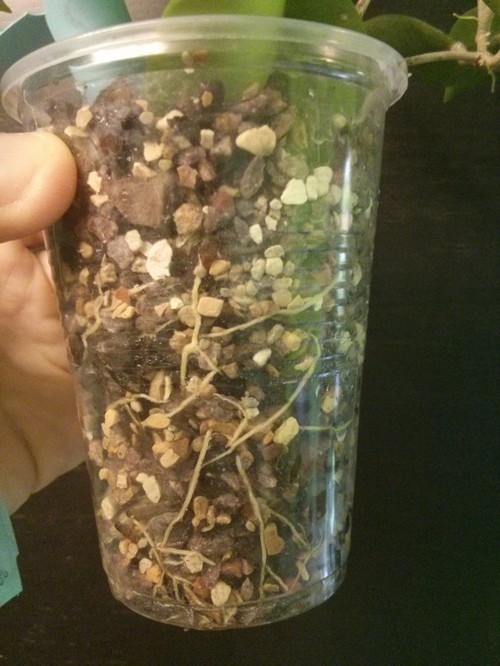 This post was edited by greentoe357 on Wed, Jan 28, 15 at 16:16