WSJ knows its audience
david52 Zone 6
January 17, 2013
On the hardships of Obama's usury tax rates among typical Americans.
-snip-But there are two backdoor tax increases that will apply to people earning far less [sic] - $250,000 for singles and $300,000 for couples.
The first concerns the personal exemption, or the amount of money a taxpayer can deduct for him or herself and dependents. In 2013, this exemption is expected to be $3,900, so a couple with three children could deduct $19,500.
In 2013 the exemption phases out for people starting at the $250,000/$300,000 income thresholds, and vanishes completely for couples at $422,500 of "adjusted gross income," or income before itemized deductions, and at $372,500 for singles. So, a couple with three children and adjusted gross income of $300,000 or more will lose some or all of their $19,500 exemption. " snip
With this helpful graphic. Note diversity in suffering.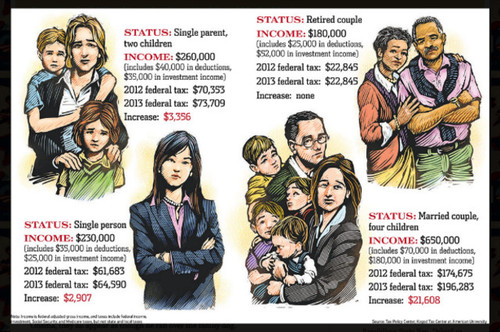 Here is a link that might be useful: WSJ article