New to Hosta forum, want to plant large bed
othertime
(7)
March 25, 2013
Hello everyone, been browsing the site for a while and wanted to ask some questions regarding a potential bed for some hostas.
The bed is roughly 8' x 60' and has from the left to right in the picture: 4 large evergreens, lavender crepe myrtle, dogwood, kwanza cherry, large maple. The bed gets some daple sun at peak then evening sun from around 4-8 in the summer.
The bed has some small shrubs that are going to be removed for hosta planting.
Some questions that I have are what needs to be done to the bed for preparation for hosta planting if any? Bed has been previous mulched and the soil is workable dark about 5-6 inches deep then gets to silty clay.
How would you approach filling this bed up (400 sq/ft roughly). Another member suggest "Hosta by the Handful" (50 or 100 hosta order Gilbert and Sons) as an approach with some specimen plants filtered in the bed for contrast color.
When should the hosta be planted in zone 7 (northern va).
Just looking for an overal guidance in making this bed a sucessful hosta bed.
Thanks,
Sam
p.s. old picture of newely seeded grass coming in.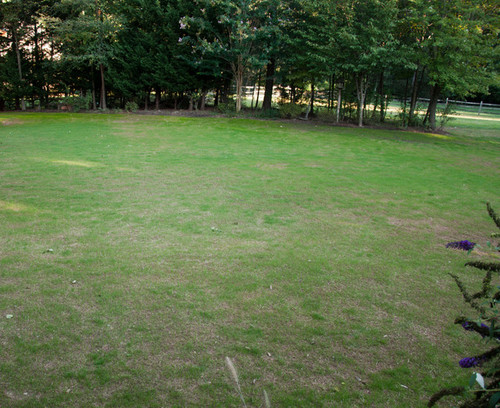 This post was edited by othertime on Mon, Mar 25, 13 at 13:20