Hostas in Pots
paul_in_mn
(4b)
March 30, 2011
Some observations/ramblings from a neophyte growing hostas in containers. I was going to say a pot growing neophyte but realized that came out wrong - lol.
Last year was my first growing hosta in pots. I hadn't planned to grow quite as many as I did - but after setting up a couple of groupings on my deck - I really liked the look and feel. Deck gets more sun, waterings and attention from me - so good conditions. All to start were new additions and grew well - Ginsu Knife and Captain Kirk just kept adding leaves all summer and I was sad to see fall come.
Some of my potted plants.
Pulled the pots into my unheated 3 season porch over winter hoping the pots wouldn't dry out too much. Added some snow to some of the pots in late February. Early 2011 results show eyes are bulging and all seem to have done very well. A couple of hosta that went into pots were bought from a local collector last spring -- Formal Attire went from 5 to 8 pips and Alabama Gold went from 6 to 15 pips -- wow! So feeling pretty good overall. My plans are to grow a few of these one more summer in pots and then move to garden in mid/late August - and continue this two year cycle with a few changing every year.
Early growth from Aspen Gold (ice/snow was just added for a little extra moisture).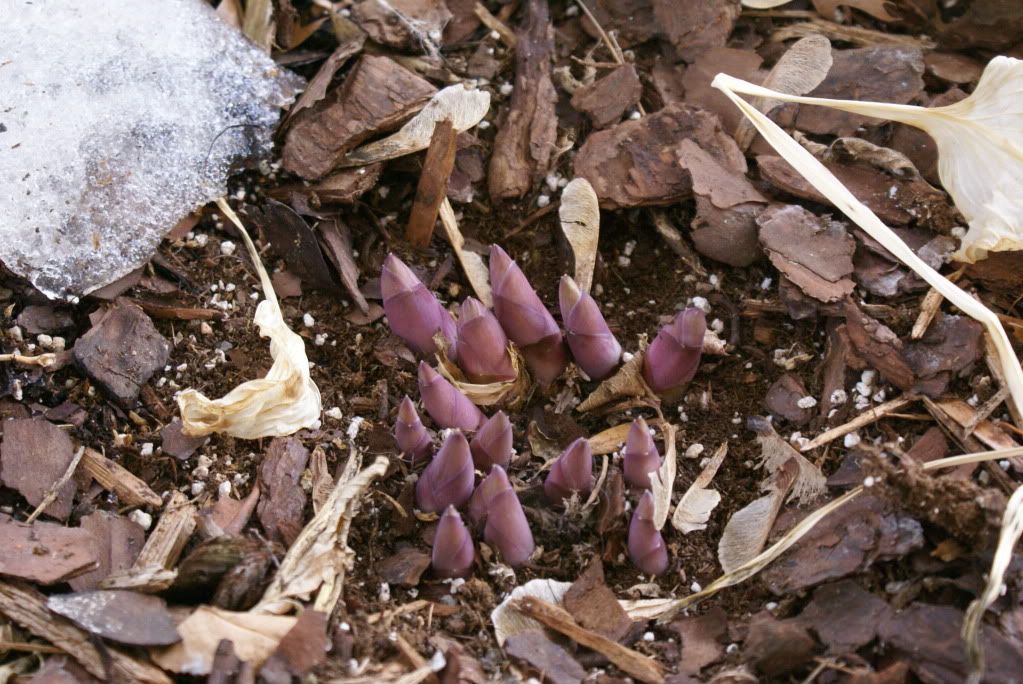 I'm interested to see how roots will look after two years in pots. Two years of same potting soil should be Ok from what I've been reading. Late summer I also moved a couple of hosta from the garden into pots - they had languished last year - Popo and Pandora's Box - still early to see results. Pandora always comes up late for me in the garden and grew well for a few years - but I think too shaded where I had it. I could see this one staying permanently in a pot - maybe with a couple of other minis.
Used a mix of equal parts small bark and sphagnum peat moss - adding in some perlite, small aggregate(clay based spill absorber that you might use on garage floor), and plant-tone fertilizer. Used this for my Elephant Ears in pots as well. When I pulled the EE bulbs after first freeze they far surpassed past years. So adding in all the seedlings last year and my deck has became a jungle of plants.
Yesterday, I found this posting (link below) about soils and water movement in containers - long post but very informative. Includes a formula for potting soil - uses more bark fines and less peat. Worth a read. May have to try some tweaks to my soil this year.
Regarding pots - found some excellent deals last year at Mills Fleet Farm (mid-west locations I think) - virtually all of the glazed pots in pic were $7 to $2 on sale. I bought some extras of biggest size for this year's planned additions.
Please share your experiences and pics growing hosta in containers.
Paul
Here is a link that might be useful: Container soils and water in containers