My modest bunch (picture heavy)
CorpsmanCooper
(FL8b)
September 23, 2011
Here are some pictures of the things I currently have in my collection (if you even want to call it that hahaha). It's very modest and forgive me if I don't know the technical name for it. I'd like to know the technical names so if you can help me out with that it would be much appreciated! Or if I'm wrong please correct me! I'd like to get a list going of all the plants that I have with the technical names! There are also a few that I have questions about.
1. Colocasia (Elephant Ear Plant)
2. I honestly have no idea what kind of palm this is. I bought this when my husband and I were first married. It's been through a lot! Help with the name?
3. I believe this one is botanically called epipremnum aureum (Pothos or Devil's Ivy). Again, please correct me if I'm wrong!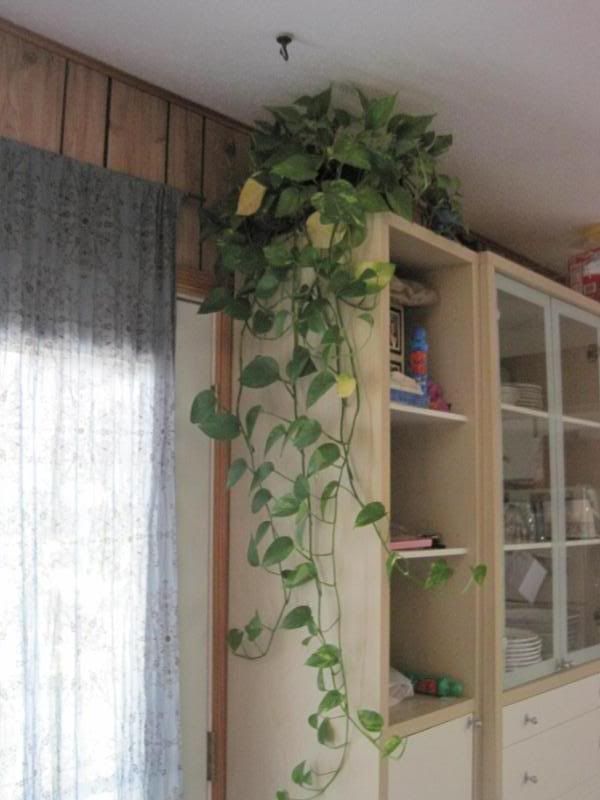 4. This is a epipremnum aureum that I propagated from cuttings from the original plant above. It's a lot more variegated than the mother plant which surprised me!
5. This is the Euphorbia milii (Thai crown of thorns) that my husband's grandmother brought me. I need to get it healthy and re-potted soon!
6. This is a Mandevilla x amabilis (Alice Dupont Madevilla) that my mother bought me. I'm wondering if this will winter and if so how do I do it?
7. This is a Hibiscus that's been at this house since it was built in the 70's. It has beautiful double blooms and what I mean by double bloom is that there's the main bloom and then a bloom comes out of the original bloom. The flower itself is red and white. Can you help with a botanical name?
8. This is Graptopetalum Paraguayense (ghost plant or mother of pearl). I got this for free from my Grandmother's neighbor down in North Port, FL. It's in rough shape but it's starting to look really good and spreading! I really love the way this plant looks! It's one of my favorites!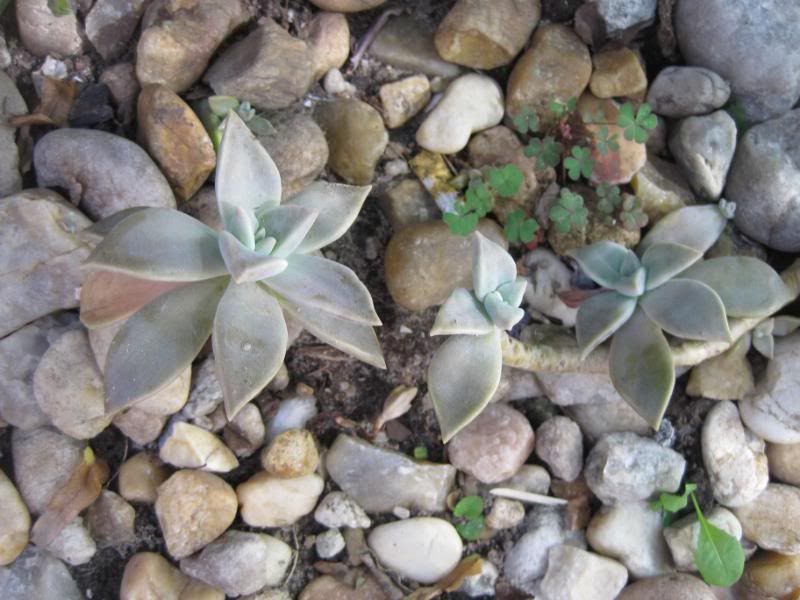 9. This is a stapeliad. What kind is yet to be determined. I'm waiting for it to flower before I'll be able to nail it down. It's starting to get some flower buds so I should know soon. This was another acquisition from my grandmother's neighbor. It was very unhealthy when I first got it as you can see from the gray branches. Now it's doing really well!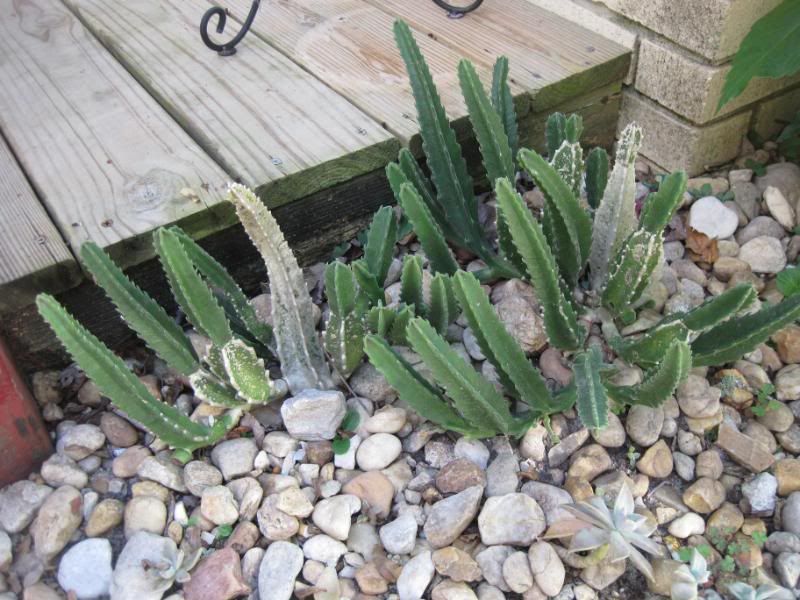 This is Sedum morganiuanum (burro's tail). Another of my favorites because it looks like dreadlocks from far away!
This is the first succulent dish I put together myself. It consists of Sedum morganiuanum (burro's tail), little tiny Graptopetalum Paraguayense (ghost plant or mother of pearl) that you can barely see, Echeveria subsessilis and anacamperos lubbersii. I'd like to know how to propagate the Echeveria subsessilis and anacamperos lubbersii. Any ideas?
These are my newly acquired cacti I got at Lowe's on Wednesday. I got them half priced and I even got the dish/pot marked down because it had a chip in it. The cacti are mammillaria bombycina, mammillaria spinosissima, lemaireocereus pruinosus and a oreocereus celsianus. I realize that as they get bigger I will have to separate them but for the time being I'm enjoying them like this!
This was an acquisition from my German neighbor across the street. I commented on how nice it looked and she just gave it to me LOL! I still have some question as to what it is but I've been told it's probably Sedum sarmentosum (yellow moss).
Here is some cutting from the original Sedum sarmentosum (yellow moss) that I'm trying to propagate. They've rooted and now I'm just waiting for it to fill out.
This is another acquisition from my grandmother's neighbor. I know it's a bromeliad but that's about it. I understand there are lots of hybrid bromeliads and it's hard to nail down an exact name so I'm happy with just knowing it's a bromeliad. It recently flowered and now has two pups. When can I separate the pups or should I just leave it alone?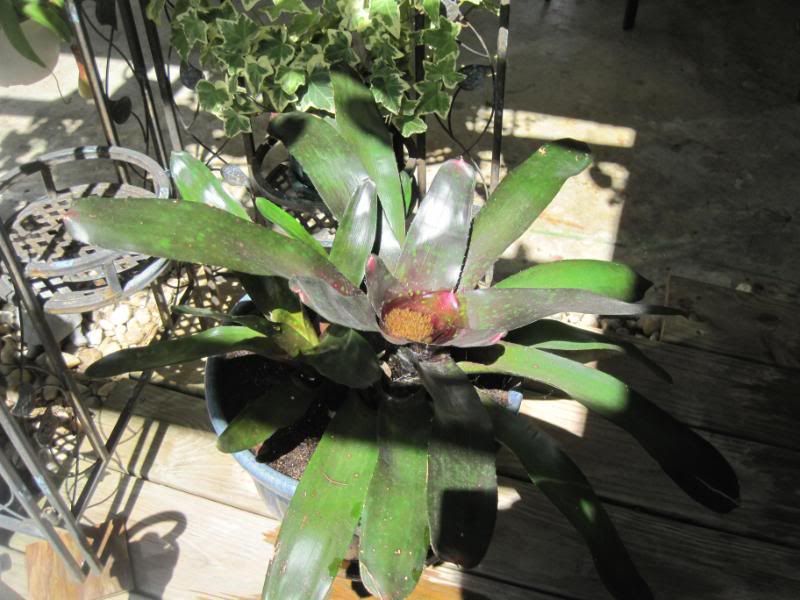 Another one of my favorite plants! This is a nepenthes ventricosa (pitcher plant) I'm hoping to have this one for a long time. I'd like some advice on cutting it back and propagating.
Another nepenthese ventricosa that I got for free because it was half dead and had no pitchers. I actually had a third as well but my generous German neighbor commented on my bigger one and how much she liked it that I have her one. I'm working on nursing this one back to health!
This is a hibiscus obviously. Forgive me I have no idea what it's botanical name is. Can you tell me what it is? It's flowers are very large and the color is a redish orange.
This is a Phalenopsis orchid I bought. The flowers have since died off but there is new leaf growth so there IS hope that I didn't kill it!
Another Phalenopsis orchid. Again the flowers have died off but there is new leaf growth.
This is a new acquisition, from my husband's grandmother, that I need to get in the ground. However, the only thing I know is it's a banana tree. I need a little help on this one. What kind of banana tree and what are the growing requirements? Also, a botanical name please?
This is the Hymenocallis littoralis (Spider Lilley) you all helped me identify recently. It came with the house LOL!
Ok I think I've bored you all to death enough! Thanks for looking!