My processing kitchen
With the harvest getting underway, I finally got my summer kitchen cleaned up.
When we bought the place, this building was a mess. Half had been used as a chicken coop and not cleaned in years, and the other half as a work shop and then junk storage - also had not been cleaned out in years. This will be my third season having a summer kitchen, and I love it!
The door, double window and windows on the green house were removed from the house during assorted remodeling projects.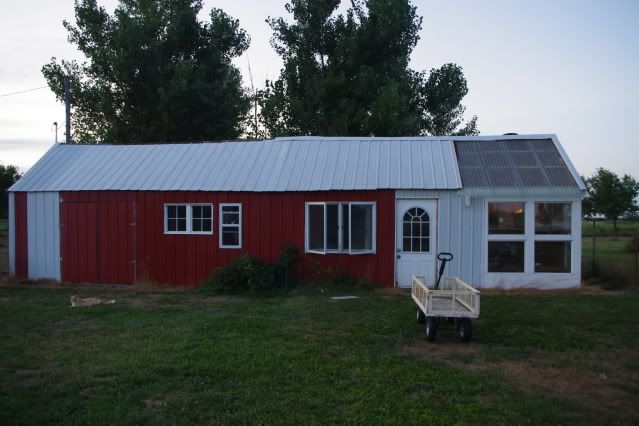 Inside I have a nice double utility sink and a hose sprayer. It's got the full power you expect from a garden hose too. The longer hose lets me fill pots on the cooktop.
The countertop has a slight slope to it so things drain into the sink. The unit on the wall is an on demand hot water heater. The cabinets are from the house. Good use of my old, worn towels too.
This use to be a display case - got cheap when they remodeled the office I work in. We put in heavy shelves to hold my pots and stuff. A few of the pots were purchased at garage sales, but the bulk came from the house when I had to replace them because I switched to induction.
This small rolling metal table was purchased for $5. Gives me some extra room for things like setting up my mixer when I need to use the attachments. The white cabinets use to be in the bathroom. The chunk of wood next to the table is the cover for the cooktop.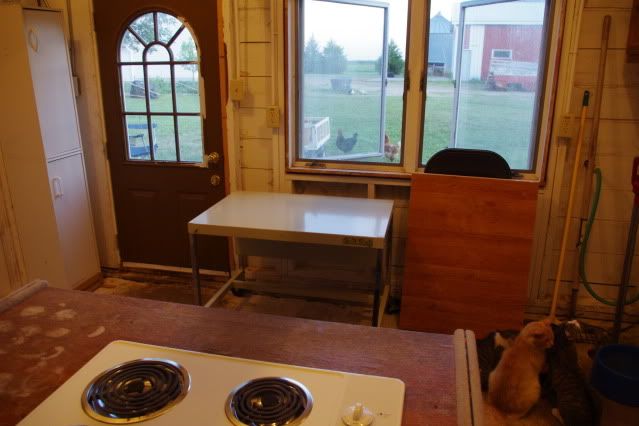 And the heart - the cooktop. I got the desk from a place I use to work years ago. It lost a few feet of length to make it fit. Having the cooktop at the low level is really nice. I can fit both my canners on this at the same time, and it's got plenty of power.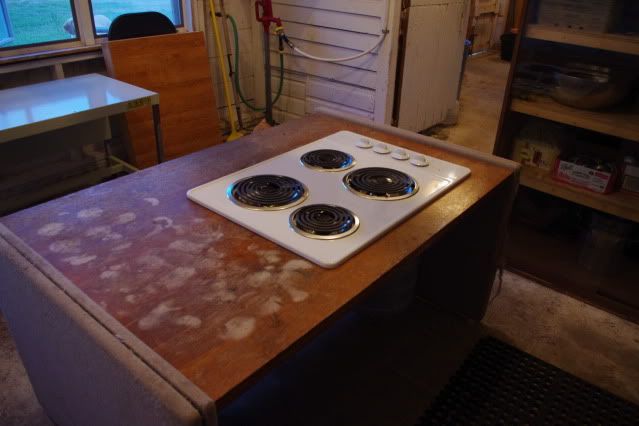 This is the water source. The outlet for the cooktop is behind it in the corner - the breaker box for the building is on the other side of the wall. I keep the breakers for the cooktop and waterheater off when not in use. The waterheater comes in the house for the winter too.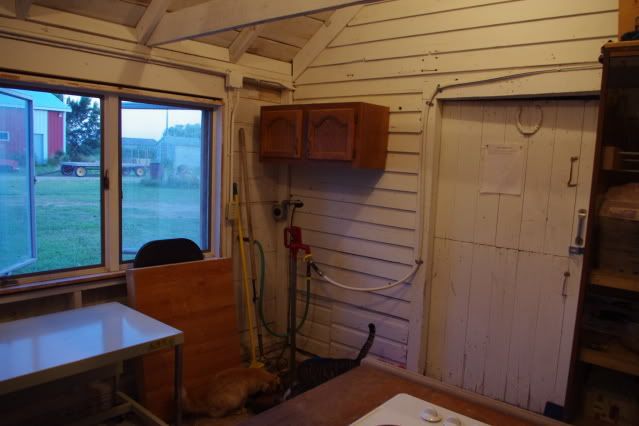 The door on the left goes to the coop (use to be a closet door in the house) and the door on the right goes to the greenhouse (use to be an upstairs bedroom door).
This picture showing the cooktop with the cover in place.