Some fun - Who do you think should win the Stout Award?
Julia NY
(6)
October 22, 2012
Each year we talk about this and have some fun with our opinions. It is so quiet on the forum so hopefully we have some fun. Here are the contenders this year:
AMERICAN FREEDOM
AWESOME CANDY
BELLA SERA
BELLE COOK
BETTY FORD
BRER RABBIT'S BABY
CARNIVAL IN MEXICO
CATCHER IN THE EYE
CREATURE OF THE NIGHT
FIREFLY FRENZY
FORESTLAKE RAGAMUFFIN
FRANCOIS VERHAERT
GEORGE JETS ON
GREY WITCH
HEARTBEAT OF HEAVEN
HEAVENLY ANGEL ICE
HER BEST BLOOMERS
HILLBILLY HEART
HOW BEAUTIFUL HEAVEN MUST BE
JACQUELINE KENNEDY ONASSIS
JANE TRIMMER
LAURA HARWOOD
LIES AND LIPSTICK
MANDALAY BAY MUSIC
MARGO REED INDEED
MYNELLE'S STARFISH
NUTMEG ELF
PALACE GARDEN BEAUTY
PERSIAN RUBY
SHORES OF TIME
SPACECOAST GOLD BONANZA
SPACECOAST SEA SHELLS
SYMPHONY OF PRAISE
THIN MAN
VICTORIAN LACE
WILSON SPIDER
WISPY RAYS
This year, I'd have to vote for LAURA HARWOOD. I have a couple of the others which either are too new or didn't do well this season but LH really stood out this year.
So what is your choice and do post your garden pic of your choice.
Not sure what the Stout award is? Here is a link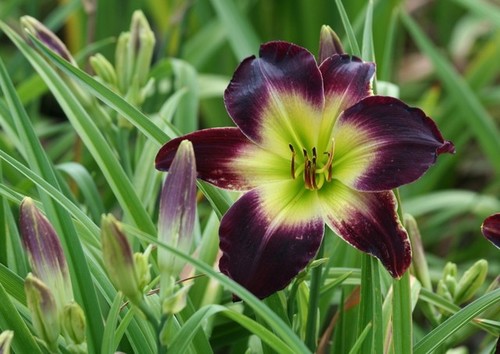 Here is a link that might be useful: Stout Medal (AHS)