BOREDOM has its perks! Biggest bang for $7.99+tax
josephines123 z5 ON Canada
April 10, 2014
I recently (March 23rd) purchased a Florissa bagged package of 4 hosta called the Emerald Isle collection...in my excitement totally missing the number 4 on the package till I left the nursery and which my daughter pointed out to me. (Very long sentence, poor grammar, sorry)
I brought them home, rinsed off all peat moss, then placed them in water. Last week I emailed the company and requested identification of the hosta. I received a prompt reply (details in the "NOID" thread of Pieter�s from 2009 on current page of threads).
I have to say that I've gotten the biggest kick - yet again - I have gained 8 more hosta (2 pcks.) Francee is the only one I didn't have. I am excited about Fragrant Dream - obviously a fragrant! I also didn't have an Aureomarginata...I will find out whether it is a Fortunei, or Montana, or Ventricosa.
It is what it is - cheap price for hosta - who cares? It's hosta - ALL hosta are great IMO! I don't like labelling any hosta as a "$5 hosta ... At one time, a long time ago, you could not buy a hosta for a mere $5. To me they are all worthy.
I feel like I won a grand prize - a windfall. They are bigger and with healthier roots than some I paid $20 for! That's what's got me so happy.
I also paid $5.99 each for Cherry Berry and 2 Blue Hawaii (Olga Petryszyn's).
I really don't even sneeze at pricey hosta, but conversely, I REALLY LOVE A BARGAIN!
Here are some pics...I realize I am not providing optimum growing conditions (ya think???) - far from it, almost pathetic comes to mind, but hey, I just wanted to play/muck around and I'm doing just that. I'm not hurting them, they will be too lanky as my Rainforest Sunrise (first bagged hosta) was last year, but "the trouble is only temporary" as the saying goes. LOL
I just wanted to share with you what a bargain I scored! Just goes to show, too, that one doesn't have to spend a fortune to get a very nice, healthy hosta...from the Netherlands yet! :-)
Jo
(The kid who loves to play around in the dirt)
Edited to correct comment. Francee is the only one I DID have already.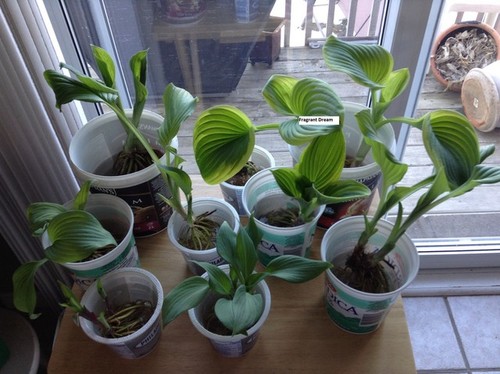 This post was edited by josephines67 on Thu, Apr 10, 14 at 23:53