My Bare Root is a Golden Meadows---yes or no?
newhostalady Z6 ON, Canada
April 5, 2013
Continued from "Picking the Best Bare Root Hostas."
Here is a picture of my Golden Meadows. The two hostas measure approximately 4 inches tall and wide. They certainly don't look like Paul's picture! And they aren't white/cream in the center! So I say they are the same hosta but not Golden Meadows. This is the third time I have bought bare root hostas and in each case they were not the correct hosta or virused. That really puts me off of bare root. I think I am going to stick to leafed out plants for now.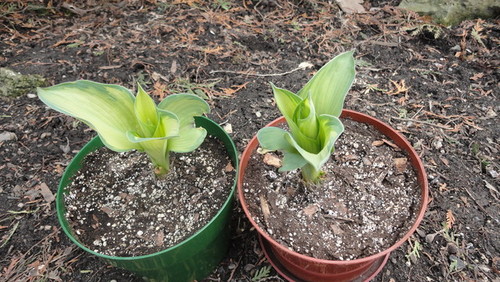 This post was edited by newhostalady on Fri, Apr 5, 13 at 17:31