Post Mortem
bkay2000
(8a TX)
April 6, 2014
I lost lots of hosta this winter. I can't figure out why, though. It's no surprise that I lost lots of those liners I bought. However, I lost some that I should not have lost. There doesn't seem to be any rhyme or reason to most of the losses. Most were fairly young plants, but not babies.
Background: We had a really cold winter this year. It was the highest number of chilling hours ever recorded. It was also very dry, with no rain in January or February. I did not water hosta during that time, except an ice cube once. Things just started to grow in early March and we were hit with a 16 degree morning. The flowering quince were in full bloom, the early daffodils were blooming and my fragrant hosta had just begun to show pips. I have lots of cold damage on some and some show almost none.
I'm trying to figure out what went wrong and how to dodge the bullet next time.
Cathedral Windows was never a strong grower for me. However, I believe the cause of it's demise was being continually knocked out of the pot as the squirrels turned it over. (I'm not taking up shooting squirrels, at least as long as my elderly neighbor is alive.)
First questionable loss:
I had a plant I called Step Son. It was supposed to be a September Sun, but obviously was not. It looked as good as it ever did last year. It just didn't come back this year. It was a three or four year old plant.
bk
This was July 2013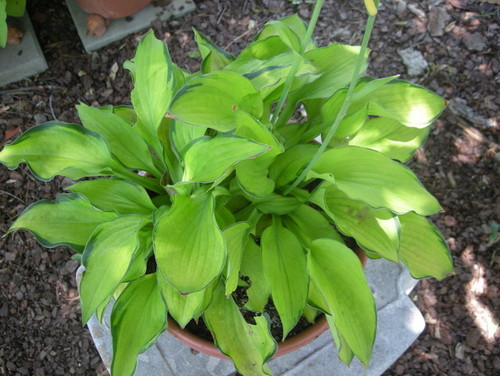 This post was edited by bkay2000 on Sun, Apr 6, 14 at 20:07