Anybody's Kerris going Wild???
pirate_girl
(Zone7 NYC)
June 20, 2014
Hello Everybody,
Happy Summer. I've been enjoying (along w/ the pix of so many folks' gorgeous blooms, sigh...) that many of my Hoyas are putting on new growth. The Kerriis in particular have really been amazing. I have 2, in 2 different rooms. A week or 2 ago I noticed they'd each put on 3 new leaves in about 7-10 days time, large leaves, like the size of my palms. I thought that was a lot of material to produce in such a short time.
Well today, after work I come home to find that my hydro one, in full sun, West window put on another foot of vine & 3 peduncles, 2 budding up! I don't have pix yet, but am surprised & so excited. These guys came out of nowhere & FAST.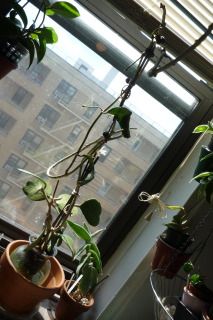 It's this crazy thing, pic from 2 yrs. ago, I can't wait. Of course I'll post updates. I noticed today, that this plant which has always had solid green leaves, now has some speckled leaves, which it never had before. Curious.
Good Growing everybody!
This post was edited by pirate_girl on Fri, Jun 20, 14 at 23:42