New cuttings and rooting
I'll start out by saying by no means am I an expert in rooting or growing Hoyas. I've only been growing Hoyas for three years. But I've had very good success at rooting cuttings, so I was taking pictures of my orchids this morning, and snapped some of my rooting procedure.
I root exclusively in S/H now. Over last winter I did a lot of experimenting with different cuttings and found this was my most successful method.
One thing to know about S/H though, the procedure involves using a weak fertilizer solution, not plain water. A very important detail many people don't mention.
For the little pots, I use washed indiviual pudding cups, or if I don't have any, I use little plastic cups, about 2 - 2.5 inch diameter. Poke two holes about 2 inches up from the bottom to create a resevoir. The substrate just needs to be something inorganic so it doesn't rot, and have good capillary action. I've used Hydroton, Prime Agra and HydroBalls. Hydroballs are the terrarium substrate that you find in the reptile aisle of the pet store.
Some pictures. This is a cutting of ischnopus that I received on June 22, a couple weeks ago. I pulled away the top layer so you can see how many roots there are already.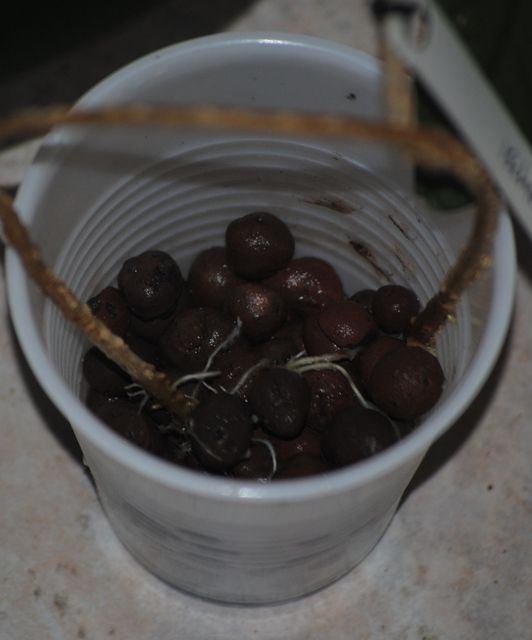 And here is a pic of all the cuttings I recieved that day, taken this morning. Every one of them has rooted now.
And three of them have already started new growing tips. In only 3 weeks.
Here is a picture of a cutting I started in S/H at the end of May, so only 6 weeks old or so?
I've taken it out of it's little pot, it is ready to be potted up. The vine you see is all completely new since I started the cutting.
When the plants are ready to be potted up, I do one of two things. If it is one that I'm planning on continuing to grow in S/H, I just move it to a bigger S/H pot (3 inch solo drink cups) and fill in with more expanded clay balls. If I'm going to convert it to traditional pots, with holes in the bottom, about a week before I'm ready to repot, I poke holes in the bottom of it's current pot to start the roots getting used to drying out. Then when I'm ready I move it into a 4 inch pot, using either the expanded clay pellets or lava rock. Kind of depends what i have on hand at the time.
Many people have no trouble rooting in the traditional water or soil method,and I believe is nothing is wrong, don't fix it, but for those that do, give this a try. It may work for you. It does for me.
Renee