Hand made Hummingbird Feeders--Pictures from Photobucket
kristin_williams
(6)
March 14, 2007
Here we go again. I'm sick of that sad thread where my pictures weren't posting, so I'm trying again on a new one. I've put my feeder photos into Photobucket, but now I'm not sure which one of the 3 choices they are providing will work as a URL or location or whatever. When I preview it, the pictures are working for me, but then they were on the other thread, too, but not for anyone else.
This is the Salvia coccinea feeder that got used frequently last year by the hummers:
This Great Blue Lobelia (Lobelia siphilitica) was just completed earlier this winter, so I haven't had a chance yet to see how the hummingbirds will react to the blue color. Last year, they went straight to the purple hybrid Lobelia also shown below: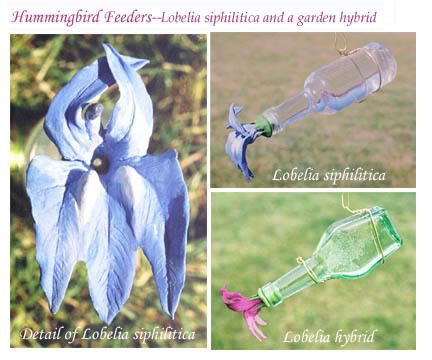 Finally, the Cypress vines in pink and in red. These have stiff protruding stamens, but the hummers don't seem to have a problem with them, as long as I make the flower short enough that they can reach the sugar water. They seem to be smart enough not to bump their little heads on the white anthers. I do, however, have to hang them with the stamens on top. If they're on the bottom, the hummingbirds can't easily reach into the "flower."
If these pictures don't post, I guess I'll have to try a different URL Link, HTML Tag, or IMG Code. I'm not sure which one to use in Photobucket. My computer expert friend spent some time with me on the phone trying to figure out what was wrong. All he could establish was that the URL's (if that's what they're called) provided by Yahoo were kind of bogus. He would have needed to get on the forums and try to trace the sources to figure out what was going on. He thinks my troubles have something to do with how Yahoo Photos labels the locations of its pictures. We decided it would be best if I just tried Photobucket.
I hope this works. I've gone to a ridiculous amount of trouble just to post these three pictures. It's late, I'm tired, and I'm going to bed!