My knotted Hydro Kerri's first Blooms
pirate_girl
(Zone7 NYC)
August 2, 2012
Well, it's finally happened: this was the night before, the excitement was building, showed up best in silhouette.
This is especially exciting for me as it's the first Hoya bloom I've ever had from scratch (from a cutting I started 2 yrs. ago).
I've had other people's cuttings bloom for me, sometimes in a cup of water while waiting to root, or in a sealed baggie doing the same; but never from one I've grown myself & this one is hydro at that (by the seat of my pants experiments, little fertilizer too).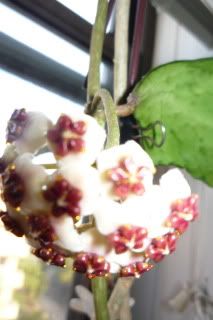 Pls. excuse how new I am at taking pix of blooms, lots to learn & these were at dusk since I couldn't contain my excitement 'til the next morning.
Notice how ratty looking these 2 irregular leaves are, then came the peduncles which appeared & then started budding up immediately.
This guy is so heavy, note the clips, twist ties, binder clips & rubber bands, all to keep this thing upright (I hope)
I'm pretty thrilled & it's got 2 more budding penduncles higher up that I could shoot.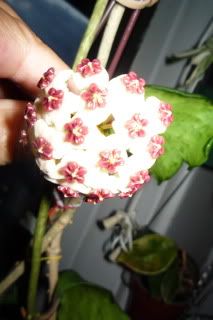 I forget for the moment who recently shared her Kerrii's blooming schedule w/ me, but it's right on the money, thanks for that preview & everybody's encouragement!