Should I mislead my Hoya like this?
greentoe357
September 14, 2013
I divided a Hoya Wayetii into two pots and am experimenting with having one plant bagged in plastic for more humidity and the other one not; the other culture factors being equal. One of those factors is the plants are under a grow light, I should mention.
Just 9 days after having bagged it, the plant in higher humidity is shooting out A LOT of aerial roots. We are talking not just roots coming out of every node, but root nubs like every 1/8th of an inch or so in some stem areas. I did not even know it was possible for aerial roots to come out of random inter-nodal space (but that's not a surprise - I do not know a lot about plants).
New growth is always exciting, of course, especially in my decidedly non-tropical environment, but eventually the bag will come off, so I can enjoy the view of the plant instead of the view of the fogged-up plastic bag. Am I getting the plant to spend energy on all these roots that will probably die back when the bag and the humidity it brings both come down - when the plant could be spending its energy on something more productive instead?
On the other hand, humidity might also be encouraging root growth under the soil - and those roots hopefully will NOT die when the bag comes off and will provide growth for the above-ground parts of the plant. (Did someone just mention flowers? "Cause I do not dare, lest I jinx it.)
I do like the look of aerial roots a lot, but if they die later, it's just gonna be depressing.
So, a question (jeez, finally he got to it!): to create the healthiest look for my plant, would you keep it bagged for a while more or remove the bag now?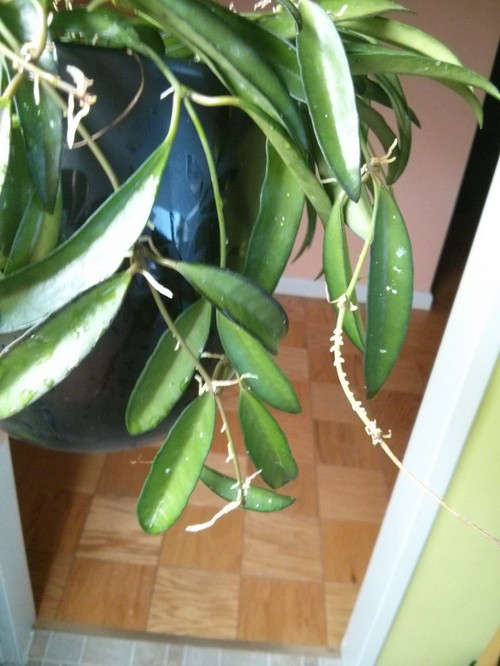 This post was edited by greentoe357 on Sun, Sep 15, 13 at 0:50