for those who want easy,tough ground cover
hester_2009
December 11, 2012
I've often seen posts from folks wanting ground covers that can be walked on as well as grow in sun or shade. I finally got around to taking a couple of not very good photos of what I like...
Barleria Repens
I know, I know, some think they might be invasive but that's not been my experience. They do tend to travel upwards but that can be controlled.
Here's what's good about them. You can get purple, pink or orange although the orange tends to be a slow grower. They are hardy, evergreen, no pests or problems, I trample them often yet they continue to form a nice mat of dark green leaves. Then, about a month ago, they started prolific flowering. (Oh, and they don't care if you water them - the pics are after the month of November when we had no rain at all.)
Here's what is the only downside that I can see - in the spring I had to take the hedge trimmer and whack them way down so they looked a little weird. However, you could just trim them with clippers to avoid that look.
I hope this is helpful to someone!
Hester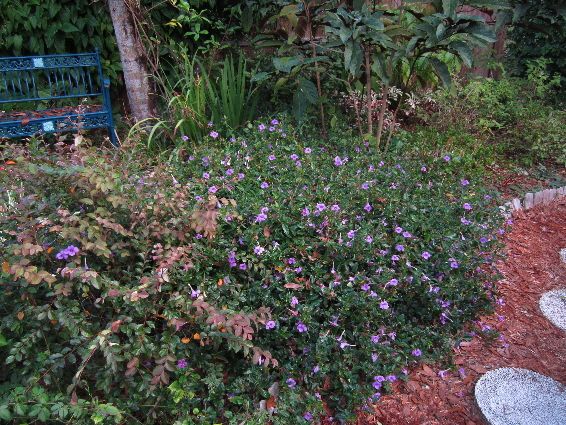 this one is from a distance looking in to a large circle that was in the middle of the driveway I planted in (for those of you who haven't seen my pics before)
Off topic but here's a red happy holiday wish!