New Reblooming Hydrangea,Anyone growing these?
Hello I am new to Garden web and i am trying to get some info about some new hydrangea. Specifically am looking for information on some new cultivars of reblooming hydrangea.After an exhaustive search i have found some cultivars that my local nurseries have not even heard of yet or will not be carrying this spring/summer.All of the hydrangea on this page are rated hardy to at least Zone 5.
Ball Hort has a two lines i am having trouble finding.All are supposed to be hardy to -20 degrees and are remontant hydrangea. Proven winners has two newer remontant hydrangea that will should be in heavy circulation this spring/summer.
Roji Irie allegedly has thirteen cultivars on the market.The Forever and Ever Series and the these new Ball Hort introductions.I need a quality source for these hydrangea if anyone currently has one of these hydrangea i would like to know how well it has performed.Height,spread, blooms hardiness and disease does it live up to the growers claims?
Double delights hydrangea
Double delights Expression (REI 06)
Actual look.
Double delights Peace
Double delights Freedom
Double delights Romance
Double delights Star gazer
Double delights Perfection
Double delights Wedding Gown
Hydrangea Next Generation
Hydrangea Next Generation Pistachio
Hydrangea Next Generation Snow Storm
Hydrangea Next Generation Wedding Ring
Hydrangea Next Generation Red Sensation
Locally i can find Mini Penny from the ROYAL MAJESTICS Line.Anyone growing this cultivar how is it doing for you? Height,spread, blooms any problems does it live up to the claims hardiness etc.
Mini Penny from the ROYAL MAJESTICS Line
Last but not least is the Proven winners Let's Dance Series.
Let's Dance®Big Easy
Hydrangea
Let's Dance®Moonlight
Big leaf Hydrangea
There is a bit of a mystery behind one of these plants Hydrangea Double Delights Expression (REI 06). Ball hort says it gets 4ft tall x 4ft wide with bi-color blooms.While Forever and Ever Together (REI 05) is dwarf at 25 inches tall and wide.These look like the same plant to me any thoughts?
Forever and Ever Together (REI 05)
Double Delights Expression (REI 06)
Here is one that i am not quite sure is a rebloomer Novalis eludes to it but does not clarify whether it does or not.
Hydrangea macrophylla 'Magical Opal'
All of nature's splendor seems to be reflected in the opulence of fine opals. Numerous tales and legends surround this colorful gemstone, including the one that says that they are related to Hydrangeas! Mystical® Opal blooms in the spring as a pink ball of ruffled florets. As the flowers fade, they take on a soft color play of green, pink, and yellow in keeping with the mild days of spring. As the season progresses, the flower heads age to emerald-green with pink petal tips. And just like the precious gem reflects the changing moods and emotions of people, this Hydrangea blooms again to do the same.
Here are some newer paniculata i trying to decide between.Don"t really think any of these are better than Little Lime and Vanilla strawberry but,they are contenders.
Front runners
Vanilla Strawberry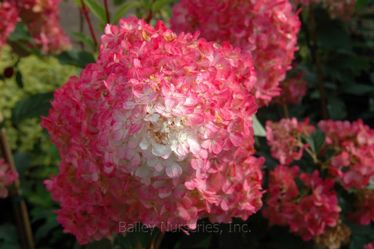 Little lime
Contenders
Hydrangea paniculata Fire And Ice
Hydrangea Mystical® Flame
Hydrangea White Diamonds