Cuppa Hoya anybody?
pirate_girl
(Zone7 NYC)
December 22, 2011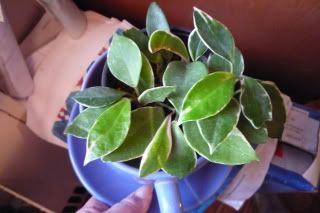 a no ID I've had for a while. Could consider Krimson Queen, except it's not hard & succulent like those leaves, it's thinner leafed, daintier & more leathery to the touch.
I laughingly call it H ficus benjamina, 'cause that's what it always reminds me of, w/ its thin, delicate white outline & dainty, lightly held leaves.
up close, isn't this lovely?