HELP- Mysterious Ailment spreading in my small collection!
kihaku_gato
(5)
April 2, 2012
[skip the wall of text if you just want to see the image of the ailment]
This is going to be my second year overwintering Impatiens. The varieties are the Butterfly Trailers, double-flowered Purple Silhouette, and in the recent months I've been starting the seeds of F1 Circus Mix as well as Baby Mix.
Except for a few spider mites and Nymph Flies at the start of the winter, things have been going smoothly for the whole year. Until recently. I had left them for the holidays and most the impatiens I had at the time were close to their deathbed from lack of water.
So I worked hard to get them to recover and that was fine, but several Trailers started showing mysterious yellow mosiacing on the leaves as they recovered (the first of them were ones that were sharing a pot with Pelargoniums, the soil also used to have Million Bells) and would eventually die. I ignored it and discarded those that were too far gone. But then some of my healthy impatiens started getting the same symptoms, including my mature Impatiens seedlings.
I thought I had it under control, but it would seem that pretty much a majority of my impatiens are at least at the early stages of this ailment, removing the affected leaves seems to only slow the inevitable.
here are photos of some rooting Trailer impatiens that have started showing the ailment.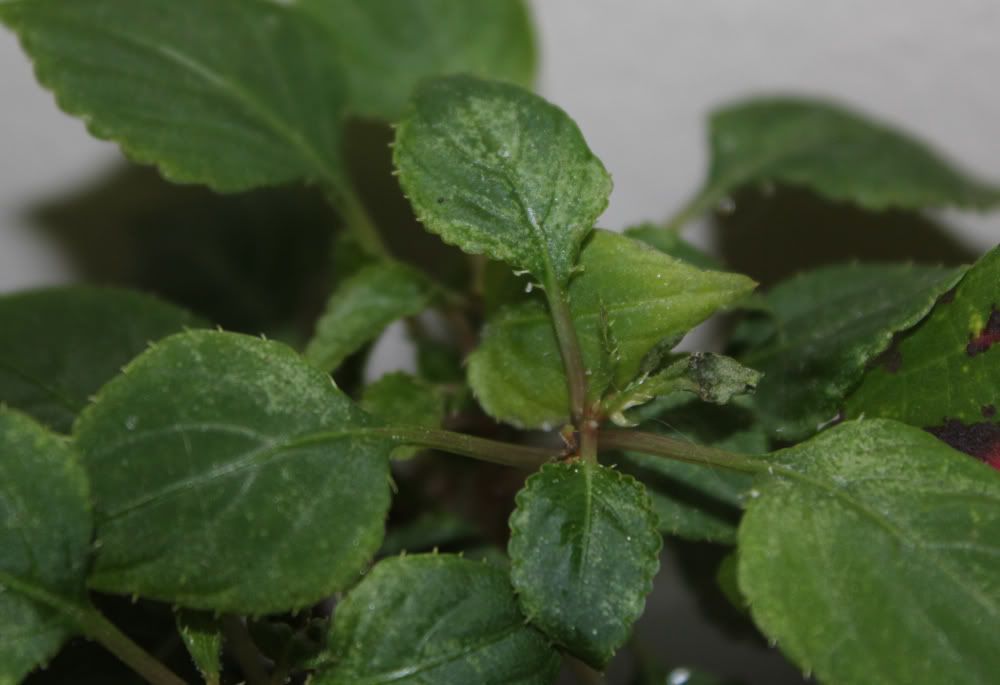 No other plants I have seem to show these symptoms other than other impatiens. Some of the coleus growing nearby them have the few odd yellow spotted leaves, but I doubt it's the same thing.
I am at the peak of the College year (final assignments and exams) so I am limited with time that I can deal with this, but I'd really appreciate some help with this. It'd be nice to know what is causing this ailment, and if whether or not I can do anything about it.