Floating impatiens island in pond
Oscarmatic
(CA z10/23)
November 14, 2013
Hello! I'm new to GardenWeb, and working on a big pond rehabilitation project (posting mostly over at the Ponds & Aquatic Plants Forum). I wanted to share with the Impatiens Forum a small success in the pond: a floating island of impatiens.
This pond is at my parents' house, and earlier this month it was coming up on the step-mother's birthday. "Will the pond have flowers?" she asked. The water hyacinth are months from blooming, and with a birthday near there was nothing for it but to find some flowers. I wanted to do something quick and easy, but creative and useful. I love impatiens and find them pleasant and reliable. I picked up a few six-packs of Impatiens walleriana from the local hardware store, along with two six-packs of alyssum, Lobularia maritima.
The flowers are supported in an old filter mat I cut holes in. I used a piece of 3/4" pipe to guide each rinsed root ball through the scratchy filter material without getting torn up; I pushed the pipe up through a hole in the mat, stuffed the root ball in the pipe, and pulled the pipe back out the way it came. The filter mat is sitting on a 1/4" mesh screen supported by foam. The flowers' bare roots are hanging in the water, mostly smushed between the filter mat and the mesh screen. I filled in with 3/4" gravel and floated the island on the top pool of the pond, in half-shade.
A week-and-a-half on, the impatiens are looking lovely. There are new flower buds growing and opening, and a few roots reaching down through the screen into the pond. (The alyssum are not looking as happy as the impatiens.)
I saw in the archives a few posts from people successfully growing impatiens in ponds, and wanted to add this success story to the library. Below is a photo from the freshly placed island, and I'll post below that another photo from today. I will keep you posted how the impatiens do in the coming months.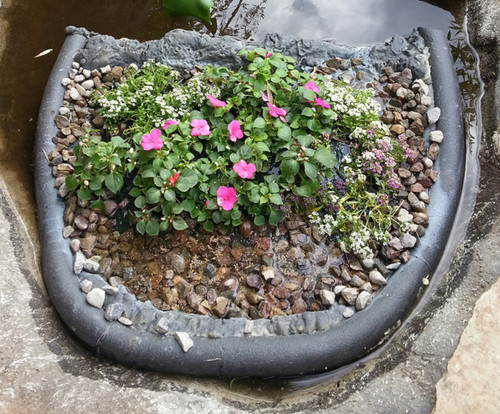 Here is a link that might be useful: More details about the whole pond and the project