Tomato yellowing top leaves
Hi there,
I check my Hydro plants every day, PH and EC micro Siemens...
Today I noticed one of my two tomato's is starting to yellow.
the top most leaves are yellowing, the bottom are still nice and green.
Here is my setup.
5 Gal bubble bucket with Hydroton grow rocks under t5 6500K lights set 2 inches above the plant.
Fresh water and Nut three days old. PH set too 6.5 but always climb back up. Today it was at 8??? My incoming town water is around 7.2 ish... with an EC of about 300
My total Ec with nuts added is 1168 aprox. (580ppm)
I have a new wrap that hangs from the light and drapes down past the tables edge. it it a reflector.
I'm wondering if this new reflector wrap is blocking off air movement and hence CO2???
One other thing:
I moved this tomato from my flood table 4 days ago to the bubble bucket. The table was flooding every three hours, now the root are in water all the time. should I lower the water level to keep the roots out of the water?
I tried the search feature on this forum but it came up with everything but tomato's and yellow leaves??
This is the tomato yesterday when it was still green.
See the rest of the photos in the next post.
Glen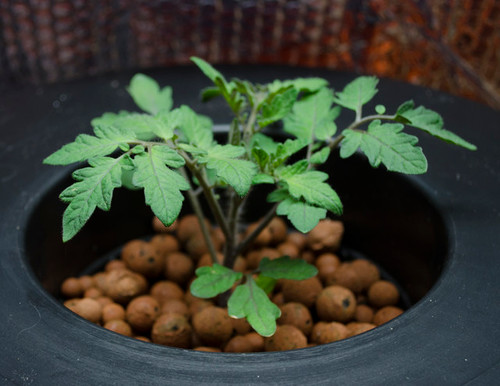 This post was edited by Astaroth on Wed, Mar 19, 14 at 19:12