deep water culture tomatoes too much work!
Yo. This is my first post here, though I have been researching and reading since December.
13 weeks ago we setup our first hydroponic garden: six tomatoes in their own 5 gallon buckets, each with its own airstone fed by a 35W air pump. Using GenHydro Micro, Gro, and Bloom. Tomatoes are some unknown seeds we started up from seedlings. Added a little calimagic to help with a small bout of blossom end rot, but turns out it's a ph issue.
I've been changing the water with nutes in each bucket weekly. The plants are very strong, ridiculously healthy looking, but I have two major problems:
They have outgrown their cages (reaching about 6ft now)
The weekly water flushes have become a massive pain in the rump.
No idea how to handle #1.. I think we just have to get a few tall posts and pull some net trellis between them?
For #2, it's real hard to get in and test the water's ph and tds, and lifting the pots out, placing them on the side, washing the buckets, my goodness it sucks, especially with the plants so enormous and now unstable, teetering with the cages. I'd rather be tilling soil and pulling weeds :p
Two ideas: first, install a little drain plug on the bottom of each bucket. This is fastest and easiest, but has a few problems:
a) can't really wash out the bucket (needed?)
b) the waste water will go strait into the dirt below instead of reused elsewhere in the garden
Second idea was to convert to a recirculating dwc setup. I can lift all buckets up on a plank of wood resting on cement blocks, with drain lines at level of net pots be gravity fed, and pump water from a reservoir into the top of each bucket. This could help stabilize a few ph issues I'm having, make it easier to work with just ONE bucket of water, no longer need to lift the plants out. But.. how do I drain the buckets back into the reservoir if I want to do a flush?
The geek in me likes #2 because it's fun, and we could setup some battery + solar cells to run the pump. But we're already into this, I'm lazy, so #1 is quite appealing.
Thoughts? Recommendations? Other solutions?
Thank you for reading, appreciate the help!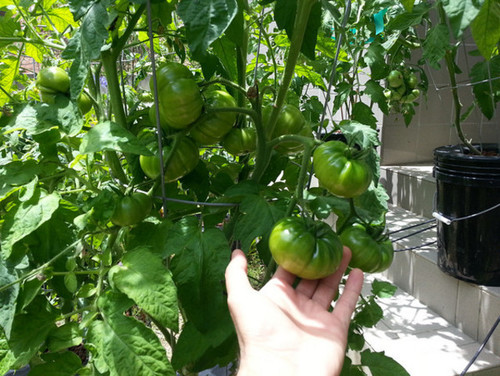 This post was edited by paradajka on Sun, Jun 30, 13 at 23:30