NFT System '12
ethnobotany
October 19, 2012
Hey guys
Those of you who have been helping me think about how to
build this system, thank you very much.
Here is a list of the parts that I have used to make this
system:
- 2X Vinyl Fence Posts (6' x 4' x 4'')
- 8X Vinyl Fencepost Caps (4'' x 4'')
- Sturdy 27 Gallon Tote
- 291 GPH Submersible Pump (by ponicpumps)
- 3X 1'' I.D. Sch. 40 PVC Pipe, 10'
- 6X 1'' PVC T's
- 6X 1'' PVC 90 degree elbows
- 2X 1'' PVC Caps
- 1/2'' Irrigation Flex Tubing, 50'
- 3X 1/2'' Irrigation T's
- 6X 1/2'' Irrigation 90 degree Elbows
- 12X 2'' Netty Cups
- Silicone, 100% Waterproof
There have been many other items necessary to make this
system such as a fine-toothed Hack Saw to cut the PVC,
an exacto knife to cut tubing, a very expensive circular
drill saw to cut netcup holes, and plenty of other items.
While I set out to make this system myself to save money,
I have quickly figured out that when this thing is finished
I might as well have bought it because it will be not much
off from a reasonably priced system on eBay.
That being said, this has been a very fun project so far
and I will have the satisfaction of saying that I built this
from scratch and without any NFT system plans. If I have any
advice for anyone trying to take upon them the idea of
making a DIY NFT system, I highly advise you to purchase
some plans. It will save you lots of trial and error money.
Anyways, here is the system so far: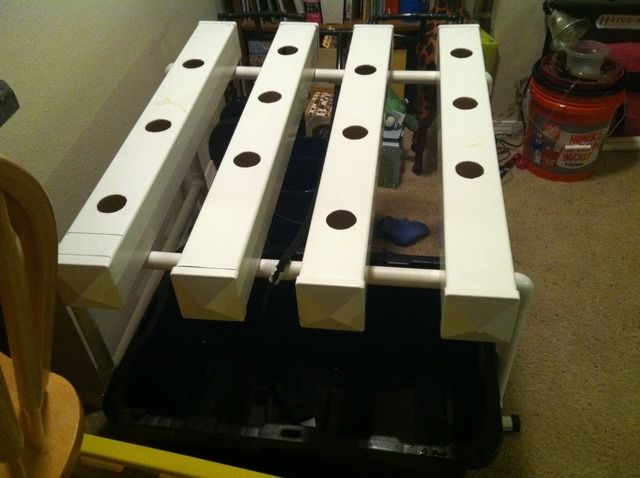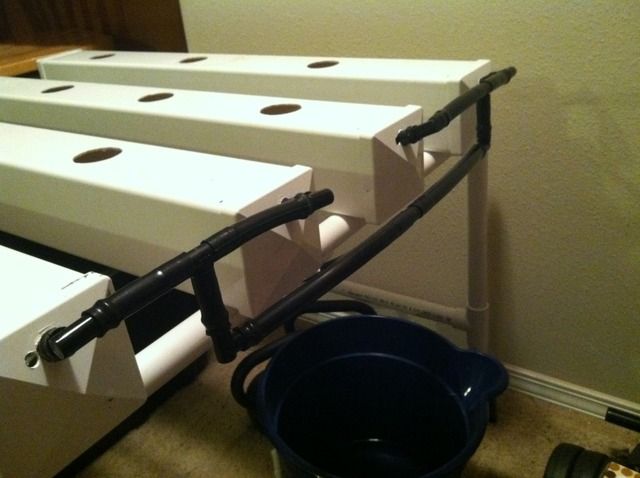 Also, I just gotta say this. Those Jillian Michaels weights
are not mine!