Need guidance before I buy
shady_10b
(10b)
August 17, 2014
Greetings hydrangea-heads!
I've recently begun a modest container garden on my apartment patio in Southern California. I would really like to add a hydrangea to my collection, but I feel I could use some guidance before making any decisions. I would really like my hydrangea to grow fairly large and bushy, but I know that represents a long-term commitment. I feel like I have a lot to learn, but I also want to get started fairly soon because my long-term goal could take years to reach.
I've attached a picture of the left side of my patio. Over the summer it's been getting 2-3 hours of morning sun, at least when the morning have been sunny (we've had an unusually humid season for this region). I imagine that over the winter it gets little or not direct light at all, but I've never checked before. The area just past the daylilies is bright and well-lit, reflecting some modest additional light.
I swooned over this Hydrangea macrophylla "Blue Danube" (the link is below); the transition from deep indigo on the edge of the petals to the cyan color on the inside is something I don't think I've ever seen in a flower before. I'm a little nervous abut mail ordering live plants, however, but it seems like the best option for me. No one at any of the local garden centers really inspired my confidence in their advice or their products. And Hydrangeas Plus has excellent reviews on the Dave's Garden website.
Do you think this is a suitable spot to grow a potted hydrangea, and is this "Blue Danube" a suitable variety? Are there any special precautions I should take when mail ordering hydrangea? Also, is timing important? I've read some advice that suggests it's best to mail order these in the fall or early spring (although our falls often bring Santa Ana winds that might be worse than if I were to get one over the summer).
The other set of issues that concern me have to do with soil, pot size, and how often I should re-pot. If I want my hydrangea to grow out to be two or three feet in diameter, what size pot should I plan on eventually needing? (Just for personal reference).
I've been learning a lot by reading discussions in the container gardening forums on what kind of soil to use, and I think the case for using a "5-1-1" mix as a starting point (5 parts partially composted conifer bark, to 1 part potting soil or peat, to one part perlite) makes a lot of sense. If you'd strongly recommend something else entirely, I'd certainly like to hear your case for it. Otherwise, how would you suggest modifying this mix to suit a hydrangea? (I will probably ask this question in the container garden forums as well). It seems like a good idea to try and make this mix more acidic if I want blue flowers (I know I will also need to water with a bit of aluminium sulfate). Ideally I'd like to build a soil that will last a few years, but my top priority is to encourage the plant to get big and bushy as soon as possible.
I know I've written a lot, and I know I'm asking a lot. I've looked for discussions that might get into some of these issues, but it's difficult to get through the 95% of topics that just seem to be "my hydrangea is sick help!!!1". I'm not asking anyone to figure this stuff out for me. If you've bookmarked discussions or links that answer some of my questions, or even just could suggest what I should keep an eye out for while browsing the discussions here, that would be good help. I'm an industrious autodidact, but sometimes I just need to be pointed in the right direction.
Many, many thanks in advance,
Nik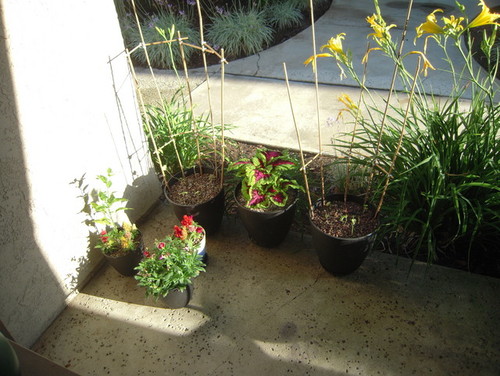 Here is a link that might be useful: Hydrangea Macrophylla Blue Danube