Otter!
orcuttnyc
(z5-6 NY)
June 21, 2006
Well, my wife and I were concerned, curious and dismayed about not seeing the koi in the natural three acre pond this spring. Last fall we counted fourteen, including four large, over two foot orange monsters. Over the last few months, we saw a couple, then only one and now none.
This last weekend, while relaxing in the hammock over looking the pond, I saw a creature on the little bridge on the far end. I called up to my wife. We both agree it was an otter crossing the bridge, moving then back into the wetland brush. We've seen too many nature films not to recognize an otter. We also have beaver, muscrat and other creatures. Those I can live with. But...an otter! They clean out ponds of fish, then move onto the next pond!
Soo much for our koi enjoyment. Gone! I also stocked the 3acre pond with trout this spring. I imagine the otter will take most of them as well.
I've been raising small koi in a horse troth to release into the pond when they've grown large enough. Now it seems i'm only raising otter food!
I'm even considering building a fifteen by twenty foot deep man made pond right up by the house in order to raise and enjoy koi...but, not only will that be expensive, but...it's a real shame to not be able to use the natural pond!
Here's a pic of the natural pond with the 'otter bridge' in the background, from last year.
We're really disheartened about this. We understand that nature plays out good and bad, ect...that you can't control it ect...but...i'm sure you koi enthusiasts will sympathise. Some of the koi had been with us for five years...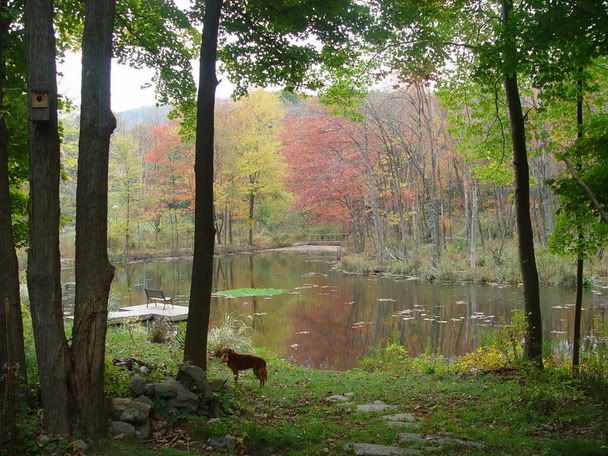 and one of my former 'dudes'...