lighting a multi-tier shelving unit
Does anybody know of any 4-bulb T5 fixture that is no deeper than 11 inches?
A 4-bulb fixture lays really nicely on top of the shelf here (it's not even attached, just lays there on the 4 poles). The middle shelf fixture, however, had to be a 2-bulb one because the inside depth of the shelf is 11', and the shallowest 4-bulb T5 fixture I have is 12.5' deep. There are no 3-bulb fixtures that I know of. If the 4 bulbs were a bit tighter, that would make for a narrower fixture that could fit.
I could get a deeper shelf, I realize, so that the 4-bulb fixture fits. I did not want to do that originally because I want to see and enjoy my plants, and that is harder to do if they are 3-5 rows deep on the shelf.
Another question is: do I really even need 4 bulbs to light up a shelf like that, or are 2 bulbs sufficient? I am transitioning towards growing mostly hoyas and orchids, and most of them do need good light in order to bloom, just how much light is the question for which I have no experience or a good feel. (I do have a light meter app on my phone, but those are unreliable with no calibration - although they are good for relative comparisons between different spots.)
Related to all this: my original plan was to light up every other shelf, like the two top plant shelves in the photo. I'd have more light loving plants right underneath the light and more shade loving plants standing on the lower lamp a distance away from the top light. (Bonus: automatic daily temp fluctuations from the lamp's on/off cycle that some orchids need to flower!)
But lately I've been wondering if that second from top shelf is getting enough light. I try to have the top shelf sparsely populated, so that some light gets to the bottom, but that defeats the purpose of lighting as many plants as I can WELL.
The top shelf plants are not on a tray, just individual saucers, but for smaller footprint small pot hoyas (which describes most of mine), and for high water flow orchids (gotta drench them at every watering, with lots of overflow), trays are really convenient - which means practically total light obstruction for the shelf underneath.
Sooooo, looks like I need a fixture above every single shelf. Or is anybody getting around that somehow?
How do you guys work through all these questions for yourself and what can you recommend for me?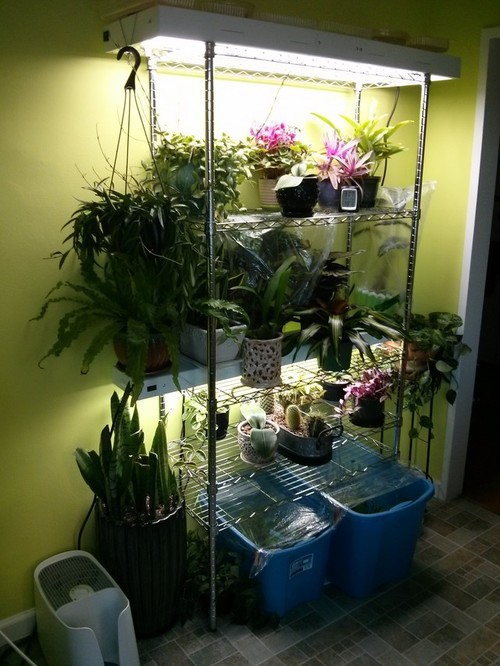 This post was edited by greentoe357 on Fri, Apr 4, 14 at 1:25