lily group ID? Mysterious mislabeled Lily
kihaku_gato
(5)
July 6, 2012
About 2/3 years ago I was wondering in nearby city store and happened upon bags of bulbs labeled "Lilium nepalense". Upon reading the label my brain plainly thought "SPECIES LILY! RAREEEE!!! BUY NOWWW!!" lol and so upon my instinct I did and planted them in my garden. For the first year and second they grew, but did not bloom. This year they budded and I held my breath as I watched the buds develop in excitement (by then I learned that Nepalense can be difficult to grow in my area, so I was happy), but when the first opened I realized..... I was duped. The colour and formation of the flowers are nothing like a Lilium nepalense.
Despite this, once the other buds started opening I've let most of my disappointment and anger slide..... and have realized that although this lily is not a Nepal lily, it is still a charming and slightly unusual lily. So I'm really wondering what this Lily is (or at least it's family group).
The plants are tall and VERY sturdy, they appear to be able to produce baby lilies through stem bulblets like a Tiger lily (though they produce a WHOLE lot less than Tigers do, and also seem to ripen more slowly) and the flowers are HUGE (three/two times the size of most of my other lilies) and pure white with hints of yellow/green and the petals are somehow textured different from my other lilies which consist of Asiatics (this lilies' flowers are thicker and heavier). And just today I also noticed some of them have a faint floral smell; like what you might smell when you go into a cool-aired florist section at Zehrs.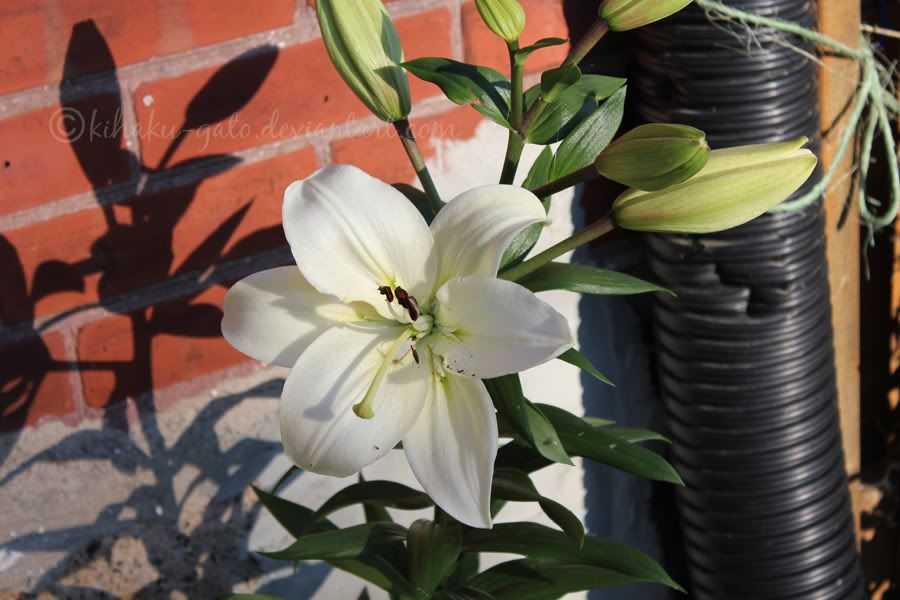 So anyone got any idea for what kind these are?