Repotting Giant Parhelion
Linda's Garden z6 Utah
June 12, 2013
As some of you may know, I have a large Parhelion that was growing in a 13" clay pot under my Japanese Maple. This plant has been in this pot about 6 years.
Well last night I decided to move the pot from under the tree since it seemed like it was getting too crowded. I struggled to pick up the pot and move it and managed to get it out of the garden and then the bottom fell off the pot. Sooo...now I was stuck with a big plant in a bottomless clay pot. Couldn't leave it like that too long or those roots would take hold in the ground.
I thought about planting it directly in the ground but I don't really have a big enough shady space for that monster, so today I stopped at Wal-Mart on the way home from work and picked up a large 23" X 23" plastic pot. It is a cute blue color and looks like a ceramic pot but isn't. It was only about $28.
Then came the fun part...how to get the plant into the new pot. With some help from my 24 yr old son, we put some new potting soil mixed with pine bark in the bottom the pot to bring it up to the right level and then picked up the clay pot and sat it inside the new pot. Then he broke the clay pot with a hammer and pulled out the pieces and added soil to the sides of the plant.
I think he looks very nice in his new pot. I don't know how long he will be able to stay in this pot but it works for now. He measures almost 5' across at this point.
Here are some pictures of Parhelion in the new pot now sitting on the deck under the gazebo.
Boy am I glad that job is done. It is 96 degrees outside right now and too hot to be doing that much work.
Linda
Before the move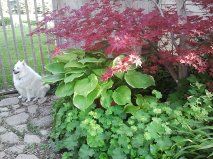 New pot