Oriental Lily Pics
timberohio
(6)
July 30, 2008
I'm really new to the Orientals. I purchased Lovely Girl last year and didn't care for it. It bloomed like a trumpet. Didn't open up and faced downward. Well totally different story this year. Bloomed upright and huge. I am now hooked on the Orientals.
The first Pic is Lovely Girl followed by some of my purchases so far this year.
Stargazer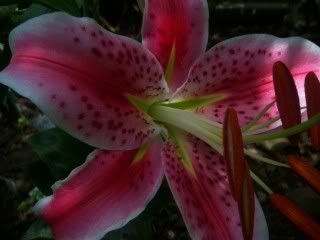 White Stargazer (this is the name it was sold to me under. Not sure there is such a thing)
Bargain of the year is Bamako Oriental Hybrid. A big box store had 5 blooming lilies in a 2 gallon pot. One of the lilies was broke off and one was leaning. Talked to the manager and he gave me the $15.00 pot of Lilies for $5. Great Bargain and beautiful. Can't find any information on it though.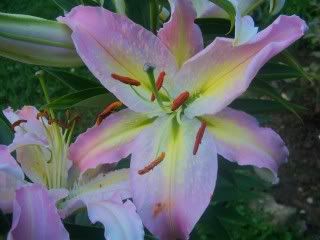 Hope you enjoy,
Andrea