Swollen pistils and no flowers
Hello, there! I bought this potted lily plant about 6 weeks ago, and its development (or lack thereof) has been puzzling me. It had three flowers when I got it, and they were of a stunning dark red color, a bit like Oriental Cobra Lilies (see link at bottom of post, though I have no idea whether they actually are Oriental Cobras).
A few days later the flowers began to gradually fall off, and some time later I noticed that, out of the three pistils where the flowers used to be, one completely dried out, but the other two began swelling, like they were going to flower again.
However, six weeks have passed, the swelling went way overboard, and took on a bit of an odd shape, as you can see on the picture, and I got no more flowers. The plant has been looking like this for weeks now, and I have no idea what is going on.
The plant sits on a window where it gets lots of light, but no direct sunlight (I even have african violets on the same spot, and they're happily budding at the moment). I might have underwatered it when I first got it, but have since ajusted the amount and frequency, and lately it doesn't seem to be under nor overwatered.
I searched the forum for the word "swollen", but nothing I found had anything to do with this, which is why I am posting a new thread. Sorry if this has been covered before, I'll be happy to follow any links to answers that might shed some light on this.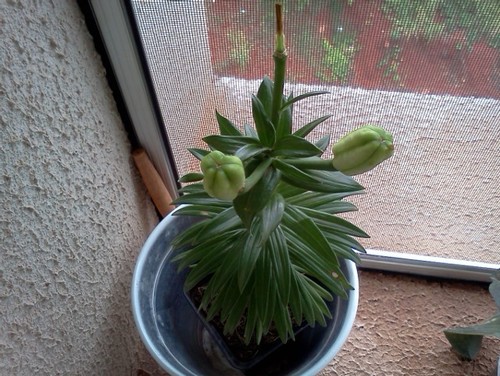 Here is a link that might be useful: Oriental Cobra Lily