Tree Root Strangulation Redux
hostahillbilly
(4)
July 30, 2012
In the last week I found two more tree root strangulation examples.
Here's some pics of one of them: Hosta 'Dorothy':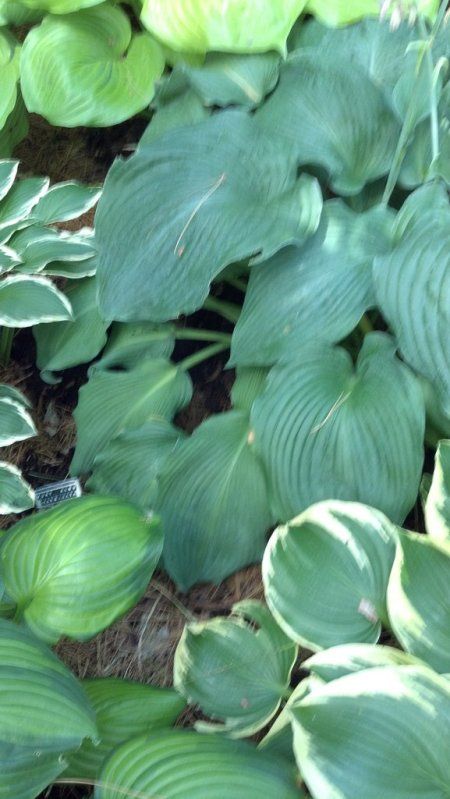 Note a few of the previously mentioned symptoms;
The color of the affected leaves are waaaay different from the healthy, normal ones (see leaves down there from 7:00 o'clock to around 9:00 o'clock.
The symmetry from the center rib is off, as in uneven from one side to the other.
The effected leaves are lying down compared to the near-by healthy ones.
Last, note that the leaf edges are much more wavey than the parent plant (on some plants that may be a difficult distinction, huh?)
My wife, hostabevie, used a shovel to cut all around this in hopes of severing the invading tree roots but my past experience says this won't really work, as the tree roots are still there 'choking' the oxygen from the Hosta.
In any event, this will have to be dug out, be de-tree-rooted, and replaced, and given the size of this gal, that's going to be a real chore.
No adjacent plants show any signs of trouble, and that's not entirely uncommon, though in future years may, oddly enough, it's not always the case.
I hope the pics are good enough to show what's going on.
I've let a few other plants go beyond this early indication of trouble, even to the point of losing them.
This post is my attempt to keep you from losing some special plant. This is our only Hosta 'Dorothy' and is the parent of the sport of my wife's special Hosta 'Beauty Queen', so I'm very concerned about rescueing her.
That brings up another possible thread, 'Hostas You've Rescued'. I, somewhat recently, posted the rescue of Hosta 'Wylde Green Cream' that I'm so happy about. What about yours? New thread, methinks.
Lemme think, most popular threads here: HVX, Alphabet Hostas Lists, NOIDS, Slugs, New Orders Received, Weather, interesting pics,
but, as Alton Brown sez, that's another show (but I'm hoping this will cause y'all to start more fun, fast threads here.
gone,
hh