Finally got tomatoes planted
jrslick (North Central Kansas, Zone 5B)
April 28, 2014
Better late than never! As with most of my pictures, they are at night. I finally got to plant my tomatoes (about 4 weeks late), on purpose, I started them 2 weeks later than usual. The next 2 weeks were due to my inability to get everything prepped in a timely manner.
I transplanted 300 plants into black plastic with two runs of drip tape in each bed. The plants are planted in a double row fashion, 2 feet between plants in row and about 15 to 20 inches between rows (should be more like 18 to 24, but it is hard to make that happen). I will be staking and weaving them soon. My idea is to get the posts in a row or two at a time to save my arms from driving all the posts in one day, we will see if I can make that happen.
How are things growing for you?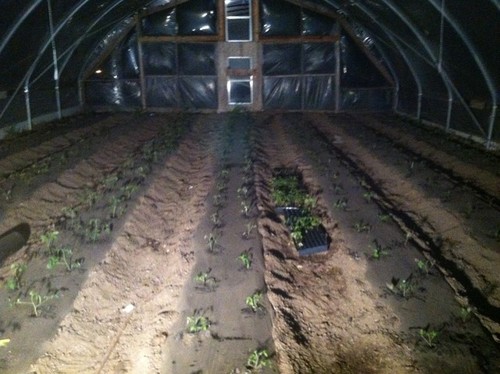 This post was edited by jrslick on Mon, Apr 28, 14 at 16:03