Surface Roots
Hello,
I've just planted 3 beautiful October Glory Maple trees in my big back yard. I'm very excited but I'm now wondering after the fact if surface roots are going to be a nuisance. I haven't seen any pictures that show me exactly how these surface roots look on the October Glory.
I'm already thinking that I'm going to have to mulch around the tree when the time comes so I don't mess up my mower. And that doesn't bother me any at all. Especially if the mulch circle doesn't have to be too big. That could be very attractive in fact. But, are these surface roots going to take over the yard? I want to make sure I still have a decent sized grass area in the yard still and that I planted these things in good places. How far will these surface roots show from the trunk of the tree? Does anyone have any images of the OG growing into the yard so I can get and idea as to what I'm up against?
The one tree next to my patio is 20 feet from both the Leyland Cypress trees as well as the patio. Is this far enough away from the patio so that it doesn't crack up the concrete?
Also, can you tell me if where I planted the trees will negatively impact the Leyland Cypresses? The nursery arborist told me that as long as they were 20 feet away from them that the Leylands would get enough room to grow. Is this correct?
Check out my link below for the image gallery...
Thanks for your time and your advice!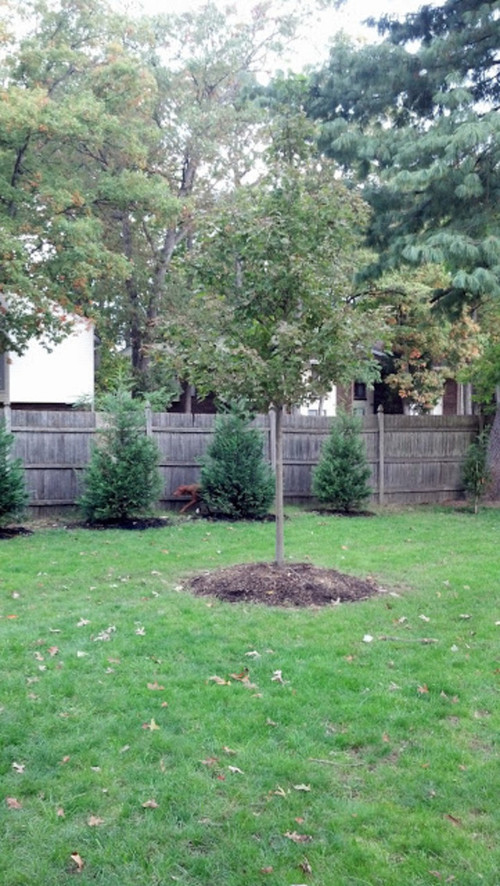 Here is a link that might be useful: October Glory Planting - October 2012