Karasugawa roots, or how not to repot
CEFreeman
(DC/MD Burbs 7B)
November 29, 2012
So in the past few years I've learned a LOt about my maples. Better soil, root care, etc.
I've been slowly repotting my 91 Japanese Maples since I learned about girdling and other dangerous conditions. I also used what I thought was good soil, but now I know it was to dense and thick. It's a wonder I didn't kill all of these.
I thought I'd share a picture of my Karasugara roots. I repotted this 2 years ago, just moving it from smaller to bigger container. Didn't know about combing out the roots or anything.
I cut out some of the braided roots you'll see, and definitely clipped the twisting and binding, hard dark roots. I've also done this with a Green Mist and Green Cascade and a few others. These 3 are now in the ground, vs. pots. I have this in store for a few more this year. I have a lot of hosta to divide and plant actually in the ground now, and many, many more JMs to address. Makes me sad/sick.
Enough talk. On to the picture. Parental discretion advised: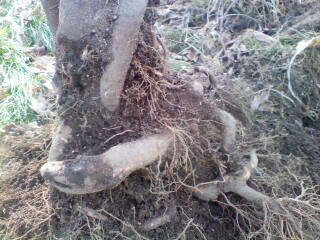 Either they'll live or not. Either way, these maples would have choked to death after a while in the pots.