JustJoeyGirl-advice wanted please!
southshoregardener
(z7 NY)
August 16, 2005
Hi,
I have been admirering your moon garden and it is something that I have wanted. I just finshed making my bed and here are a few pictures.
View from patio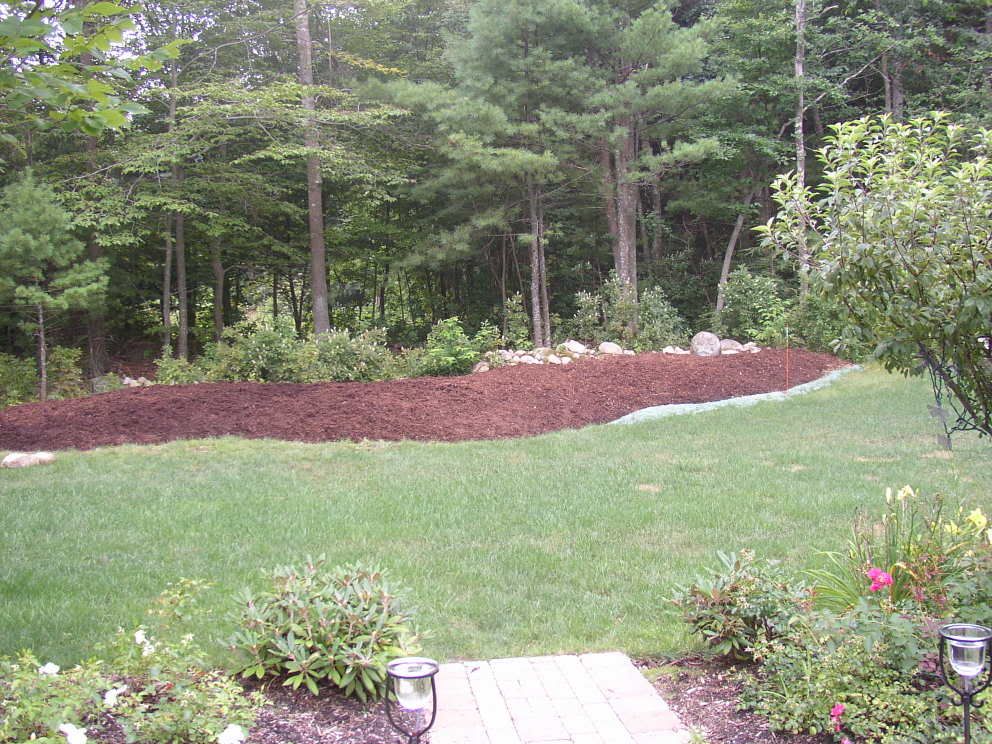 View from deck
I don't have exact dimensions but I will measure later today. I would guess about 40'x 20' at it's widest. The exposure is part sun/shade (more shade than sun). I have just completed a list of possible plantings after looking at yours and doing some research and I would love your opinion! Then where should I start as far as design goes?
Here's the (long) list:
Plans for Moon Garden
Shrubs:
AZALEA white lights, spring->late spring, medium, 3'
Buddleia x white ball dwarf Butterfly bush, summer, short 2-3'
DEUTZIA setchuensis Corymbiflora, spring, medium 4-6'
HYDRANGA arborescens AnnabelleÂ, early summer->fall, tall 4'
Philadelphus x Minnesota Snowflake mockorange, spring, medium 3-4'
VIBURNUM plicatum NEWZAM - Newport Viburnum, spring-summer, tall 4-5'
Bulbs:
Allium
Allium cowanii, mid-spring, 24"
Allium multibulbosum, late spring, 18-24"
Crocus
Jeanne d'Arc-early spring, 5"
Daffodils
Tresamble-early spring, 16"
Narcissus Mount Hood-early spring, 18-20"
Narcissus albus plenus odoratus"Double Pheasant's Eye"-mid-spring, heirloom, 12-14"
Narcissus thalia "Orchid Narcissus", mid-spring, 16-18"
Hyacinth
Carnegie-early spring
Muscari
botryoides Album-early spring
Lilies
Lilium Candidum Madonna Lily-late spring, early summer
Oriental Casa Blance-summer
Tiger Lily Sweet Surrender-late summer, early fall
Tulips
Tulip Hibernia, spring, 18"
Tulip Maureen,late spring, 28"
Tulip White Cascade, early, 12"
Misc. Bulbs
Galantus elwhesii, early spring, 5-8"
Ornithogalum magnum, late spring, 20-24"
Puschkinia libanotica alba, early spring, 5"
Scilla siberica alba, early spring, 4-5"
Perrenials
PULMONARIA officinalis Sissinghurst White : JERUSALEM COWSLIP-early spring, ground cover
ARABIS Variegata - Rock Cress-early spring-late spring, short 8"
ASTER ageroides ASRAN, late summer->fall, medium 2'
AQUILEGIA Tower White : Columbine, spring->summer, medium
CAMPANULA Persicifolia Coerulea Alba-late spring->early summer, medium 2-3'
CIMICIFUGA RACEMOSA Black Snakeroot, summer->fall, tall
COREOPSIS Verticillata ALBA, early summer->fall, short 12"
DICENTRA Spectabilis Alba Bleeding Heart, spring->late spring, medium 28"
DIGITALIS purpurea PAM'S CHOICE, late spring->early summer, tall 3-4'
ECHINACEA White Swan, summer->fall, tall 3'
GERANIUM Biokovo, spring->summer, short 8"
HOSTA Royal Standard, summer->late summer, medium 30"
PENSTEMON digitalis ALBA-summer->early fall, medium 28"
VERONICA Alpina Alba, spring->summer, short 8"
Annuals-All White
Bedonias
Impatiens
Nicotiana
Petunias
Anyone else, please feel free to chime in!
SSG