Ants, weeds, spiky bushes....oh my!
Need help with weeds, ants, and future planting.
Here is a spot by my patio I don't know how to keep weeds from growing. I ripped out greenery that was growing like carpeting as best I could, hopefully it doesn't return. I cut down 3 bushes that were over grown and thorny. They are popular around here but I'm not a fan with kids around. The stumps we pulled out by my husband but the roots were stretching throughout.
I would like to plant some tall grass and lavender but I want to rid the weeds first for clean slate. I pulled a ton with the ground cover but more have sprouted up. Can I use roundup now and in a month or two plant the tall grasses?
Also, I moved a stone and tons of ants quickly spread everywhere. I got some diatomaceous earth, unfortunately spilled some because the bag was a tear away top. (See mess on stones).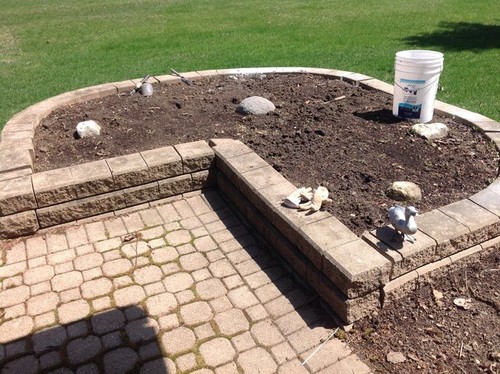 This post was edited by balky on Tue, Apr 22, 14 at 14:58