New to Gardening, help me plan please!
I've dabbled in gardening time and time again, but nothing ever more serious than a few pots of store bought tomatoes. This year I want things to change. We have built our own home and after a year of living in it and getting used to being homeowners I think this year I am wanting to take on the challenge of a larger vegetable garden.
I will be using raised garden beds because living in Florida, zone 9A, only about 10 miles from the ocean literally under the grass the contractor put down is sand. I am amazed the grass has lasted as long as it has to be honest - last year with getting new house stuff finances has been tight and paying money to fertilize and baby the new grass was kinda on the low-priority list. I think the best placement will be using the established fence as the back end of the garden to give it some shade during the dog days of summer. I have read all the internet articles about using railroad ties in a garden and come to the conclusion the ones I have available for free to me would still work - they are 50+ years old and if I line them with plastic I believe I will be okay. My father is using them for his veggie garden and no one has died of multiple diseases yet. =P
The garden would need to be fenced off, we have these large obnoxious pests that I can't seem to get rid of. I have at the bottom of the post a link to a photo of these 'pests' The worst part about it is that they dig everywhere - I will need to fence off the garden to prevent future damage that will be inevitable.
I am thinking for the actual garden selection I will be using tomatoes, peas, beans, cucumbers, and eggplants. You cannot see it in the photo but I already have a baby meyer lemon tree planted because why-not-it-was-on-sale-for-$5-that-somehow-survived-the-recent-polar-vortex and a sad single blueberry bush. It had a mate of a different variety but it died when the yard flooded during the 3 month rainstorm last summer that was very very unusual and better not happen again. Naturally I did not keep the labels for the blueberry bush so I will need to get something to cross pollinate with it.
We don't have a large piece of property, the entire lot is .3 acre, but that is fine - I am not wanting anything overly huge. Here is a photo of the area that I am going to place it. I cannot place it in the other half of the yard because we have a double gate encase we ever need to get our vehicle in the backyard, which with this garden will likely happen a lot. The back side of the property cannot be used because it is full of pine trees; you can see them on the other side of the fence and that is how they look along the back side of the property. We want to keep the trees because otherwise there would be 0 shade outside of what the house would provide.
As much as I would love to go super fancy with this garden I will be using more 'budget' ways to keep it going. Any help in setting this up would be greatly appreciated. (I also may have gotten ahead of myself and started some dollar store seeds in the closet with a desk lamp, somehow nearly all of them have spouted to my surprise.)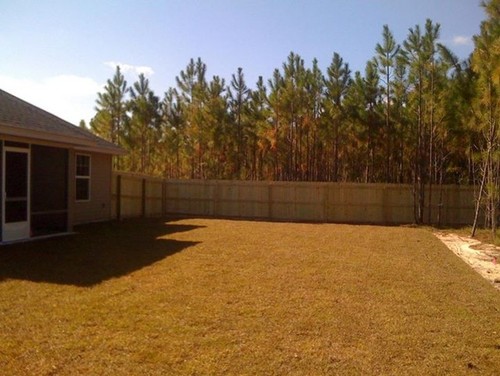 Here is a link that might be useful: