Grape problem & native vine suggestions ?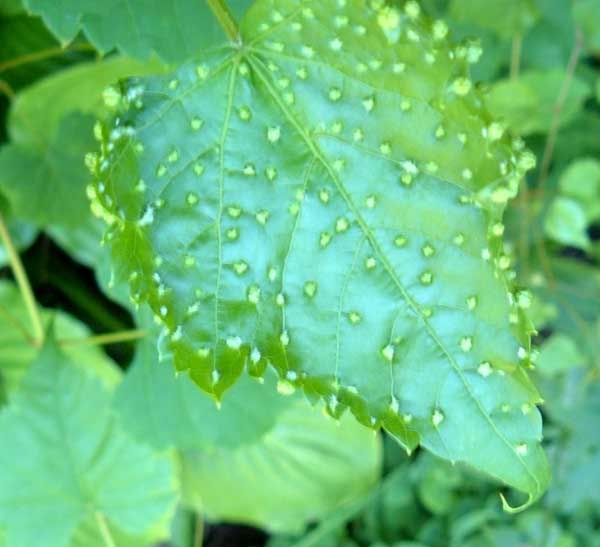 Hello, just wondering if anyone recognizes this strange problem on these grape leaves. Looks like tiny white pustules all over the leaves. I'm wondering if this is Grape Phylloxera, or Grape Blister Gall?
Haven't paid much attention to this grape vine before now and haven't formally identified it yet. This vine may be native, but it may have invaded our yard from somewhere. I think I remember it having rather small, possibly green grapes. The grapes right now are only about the size of a pea, and are currently green.
If you know what this problem is, can it spread to other non-grape plants?
I know it's probably hard to tell from just looking at one leaf if this is a U.S. native grape or not. I can take more photos if that would help. If this is a non-native grape, I was thinking of eradicating it, and planting an alternative vine, but am not sure what would be best vine for this spot.
Was thinking of American hogpeanut (Amphicarpaea bracteata) which I know is definitely native to our area, or Trumpet honeysuckle (Lonicera sempervirens)?
Thought about Virgin's Bower (Clematis virginiana), but am a little concerned about the skin-irritation factor and aggressiveness. Have also considered Virginia creeper (Parthenocissus quinquefolia) but am concerned about the poisonous berries aspect, as well as the aggressiveness.
Right now the grape vine is supported by a small shed. The area the grape vine is in gets partial shade due to the small shed, and has fairly moist soil due to partial shade plus growing on a broad downward slope that leads down to a stream. Note: We do not have humus-rich, woodland soil in this spot. Our soil is clay/red-shale, and there are no trees in the immediate vicinity of this grape vine.
Has anyone had any experience with these vines, or can anyone recommend some alternative native vines or even a shrub that would tolerate clay soil and like the support of a shed? We are in the Mid-Atlantic region, Northern Piedmont, Zone 6.
Any thoughts would be appreciated. Thanks in advance!