Another native restoration (photos included)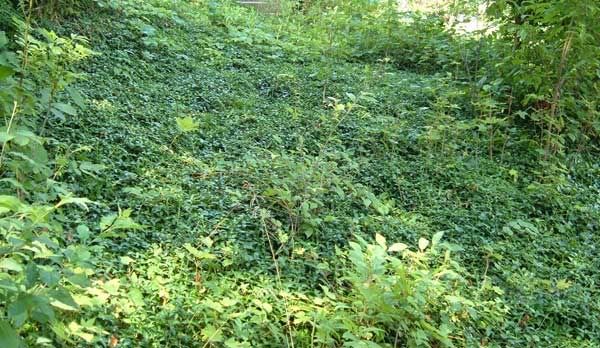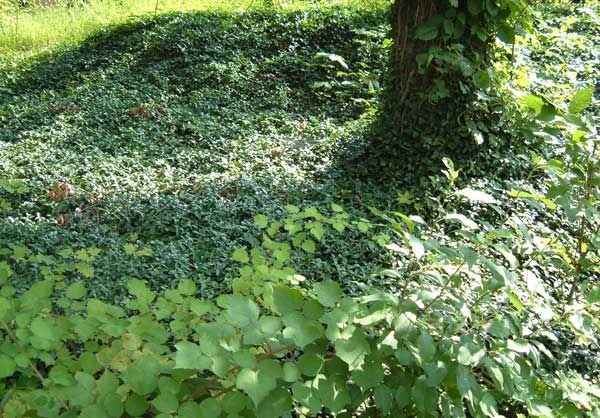 Were starting on another native restoration project for an area of our land, and was wondering if anyone can help answer a couple of questions about native habitats.
The area we'd like to restore native plants and shrubs to is a large slope which is sitting at the foot of a long cinderblock retaining wall. The entire area is currently carpeted by Vinca minor, and English ivy, both planted by the previous owner of our house (see photos). We'd definitely like to remove the Vinca Minor, and possibly the English ivy as well.
The slope is in a riparian buffer area, not on the banks of the stream itself, but within less than 50 feet of a ravine which leads down to the stream. The soil is has a moderate clay content mixed with shale rocks, and is fairly moist.
Here are our questions:
Sunny section of slope: Should we think of this as a moist thicket, open woods, or meadow? The sunny area is in full shade until about noon, when it becomes a full sun area until dusk. Natives that have self-seeded at the edge of the sunny section of the slope currently include: Black Walnut saplings, Yellow birch saplings, poison ivy, and a very young unidentified conifer, most likely Eastern red cedar.
Shaded section: Should we think of this as dry woods? At one end of the slope is a non-native Norway Maple which keeps that area of the slope in dappled shade all day (the Norway maple overhangs our property, but the trunk isn't on our property, so we can't cut it down). Non-native shrubs in the shade area include Japanese winebery. We're thinking of the shaded area as dry woods due to the roots of the Norway maple, but aren't certain how dry it really is. Natives that have self-seeded in the shaded section of the slope currently include: Virginia Bluebells (Mertensia virginica), and poison ivy.
WeâÂÂre in Zone 6b, in the Northern Piedmont area, inland from the East Coast.
The "sketch" below pretty much shows the approximate placement of everything where it is right now. Definitely a "Before" sketch, not an "After" !!!
Any help with pinpointing these habitats would be appreciated. Thanks in advance!