noid #1
CEFreeman
(DC/MD Burbs 7B)
August 10, 2014
Hi all!
I've been trying to ID some of my hosta, which have been in pots for up to 8 years. Tags have been lost, eaten, and disintegrated.
I've had great luck with the leaf ID pics at Mickelsfield hostas and other sites that let me compare pictures. Plus, I have a pretty comprehensive list of my purchases, which lets me rule out things I just know I didn't buy, or some I'd forgotten I had.
I hope you don't mind another game of Name That Hosta, but I'd love your help. I have an OCD need to know names -- plus it helps me put these in the ground in appropriate conditions.
So... my first (and I have no web host, so separate pictures) is a beautiful, small one. Its leaves are a nice, shiny dark green and about 3" long. I believe the flowers were a medium lavender (I missed that opportunity).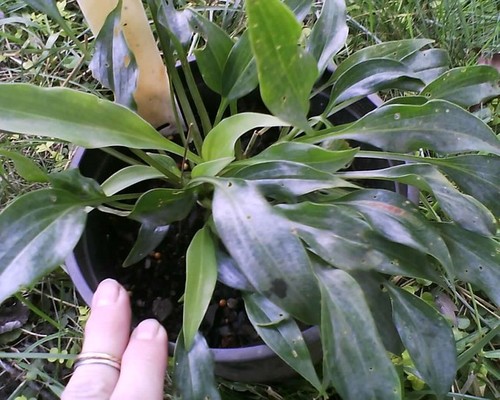 This post was edited by CEFreeman on Sun, Aug 10, 14 at 11:06